! MP3 02/14/09, 01/07/10, 02/09/11, 02/06/12 > <! update 00/00/00 > <! outside 00/00/00 > <! pix 00/00/00 > <! 02/09: research Cheb i Sabbah, Stella Chiweshe > <! icons 02/03/11 >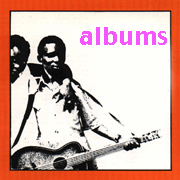 ---
Hi -- welcome to my African music review section. This page includes records by artists under the letter "C". More African music resources can be found at the main index page.
By the way, I'm hardly a world's expert on African music, and this list is kinda whatcha call a "work in progress," so please feel free to make suggestions and comments.
---
A | B | C | D | E | F | G | H | I | J | K | L | M | N | O | P | Q | R | S | T | U | V | W | X, Y, Z | Comps

---
MUSICAL STYLES: Afro-Beat | Music of Cape Verde | South African Jive 'n' Jazz | Main Africa Index
---

Caluza's Double Quartet "Caluza's Double Quartet - 1930" (Heritage, 1992)


A Rosetta stone of South African music, the Caluza group recorded several dozen songs in the early 1930s, and their style is unmistakably the precursor of the South African choral style of groups such as Ladysmith Black Mambazo and Black Umfolozi, which Paul Simon helped popularize in the 1980s. Stylistically, these recordings are similar to American jubilee gospel styles, although the harmonies and cross-melodies are distinctively South African. Led by a sometimes plinky-planky piano, the vocalists bring to life the compositions of Reuben Tholakele Caluza, a teacher at the ANC-related Ohlange Institute. Despite the churchy delivery, the lyrics deal with social hardships such as unemployment and police harassment which Africans suffered under the apartheid system. Fans of South African music should find this disc stunning; for the rest of us, it may be a bit dry.

Camayenne Sofa "Vol. 1: La Percee" (Syllart, 1999)



Camayenne Sofa "Vol. 2: Attaque!" (Syllart, 1999)



This classic Guinean pop ensemble had one of the grooviest sounds I've heard, and for whatever reason, I find them completely enthralling. Part of it is the roughness and seeming incohesion of their sound -- there are several distinct elements that appear on the surface to be unlike each other -- the keening, shrill vocals; the gorgeous, perfect, echoey guitars; lastly, the driving, aggressive percussion, an unusual mix of indigenous drums and a lively snare set, all anchored by a swirly little organ. Camayenne Sofa seemed content to leave the rough edges in their music, and that suits me just fine. These guys were extremely talented performers who didn't succumb to the age-old temptation to "perfect" every little bit of their music, and thus these discs are more energetic and compelling than the vast majority of African pop albums you're likely to hear. Great stuff. Highly recommended!
Captain Yaba "Yaba Funk Roots" (Retroafric, 2003)






<! "Tinanure" cool song! A bit modern, but nice mix of African and Arabic styles >

Cheb i Sabbah "La Ghriba: La Kahena Remixed" (Six Degrees, 2006)



Clubby, hiphoppish electronica remixes of Moroccan pop star Cheb i Sabbah's work... It's nice and very skillfully produced, and if you like the style I'm sure this disc has a lot to offer. Personally, though, I'm not into club music, so this isn't really one that grabs me that much. Results may vary.


<! He's Jewish! > <! Cheb i Sabbah "Shri Durga" (Six Degrees, 1999) Cheb i Sabbah "Maha Maya-Shri Durga Remixed" (Six Degrees, 2000) Cheb i Sabbah "Krishna Lila" (Six Degrees, 2002) Cheb i Sabbah "Krishna Lila Select Bhajans" (Six Degrees, 2002) Cheb i Sabbah "La Kahena" (Six Degrees, 2005) Cheb i Sabbah "La Kahena Remixed" (EP) (Six Degrees, 2005) Cheb i Sabbah "La Ghriba-La Kahena Remixed" (2006) Cheb i Sabbah "Devotion" (Six Degrees, 2008) >

Tinashe Chidanyika "Sounds Of The African Mbira" (Arc Music, 2009)



(Produced by Barry Van Zyl)
Eerie, weird, unusual, evocative and traditional music played on the Zimbabwean mbira, or thumb piano. Although mbiras have been used on uptempo popular music in recent years, here the music is languid and haunting, and the structure is so different from what we have been trained to hear that there is a sensation of being adrift or aloft, over a cavernous precipice; the easily recognized supports of modern music are largely absent, and listeners have to give themselves over to unfamiliar, cyclical rhythms and chants. It's an entirely pleasant experience, buoyed by gentle, finely textured sounds and a mysteriously comforting vibe. I'm reminded of Francis Bebey's "Akwaaba" album, although this is less stark and a bit warmer -- definitely worth checking out, although it might take a while to get onto the right wavelength.

Stella Chiweshe "Shungu" (Piranha, 1994)



A fine live album, with mellow songs, fast dance numbers and plenty of lushly hypnotic grooves... Great sound quality and Chiweshe's usual brand of gorgeous, melodic music. Recommended!
Stella Chiweshe "Chisi" (Piranha, 1994)






<! 1990? >

Stella Chiweshe "Kumusha" (Piranha, 1994)



Stella Chiweshe "Ambuya?" (Shanachie, 1988)


Another solid effort by this melodic master of the Zimbabwean mbira, or finger piano. This is, I suppose, a "poppy" affair, although only in the context of Chiweshe's own ethereal body of work, but not in the synths'n'drum machine sense of other '80s world music. It's just that this is such a smooth, easy-on-the-ears kind album, one that sounds great and goes right by ya before you know it. Nothing to complain about, really... just wish it was longer!

Stella Chiweshe "Talking Mbira: Spirits Of Liberation" (Piranha, 2002)



If Zimbabwean pop star Stella Chiweshe has ever made a bad album, I certainly haven't heard it. This latest collection, recorded mostly in 1998, is another delight, full of her beautiful work on the mbira finger piano, and the searching, impassioned vocals that are Chiweshe's trademark. While this record has a few upbeat, chimurenga pop songs, it's mostly made up of more brooding, oddly mystical numbers, challenging tonal explorations that might even give John Zorn, Zoviet France and their difficult-music crowd pause for thought. This is the best kind of world music: odd, mysterious, compelling because of its mix of beauty and otherness. Instead of adapting herself to easily digested, cookie-cutter formulas, Chiweshe makes the music she feels, taking what her Shona culture taught her and then crafts art so persistently alluring that it urges our curiousity, compelling us to learn what's going on inside all the pretty sounds. She's been making music for decades now, and shows no sign of slowing down or diluting her music's considerable power. Recommended!
Stella Chiweshe "Double Check: Two Sides Of Stella Chiwese" (Piranha, 2006)


Stella Chiweshe "Through Mbira" (Anhrefn, 2009)


Chiwoniso "Rebel Woman" (Cumbancha, 2008)



(Produced by Keith Farquharson)
I'm a big fan of Zimbabwean mbira (finger piano) music, and found this sophomore album by American-born Shona singer Chiwoniso Maraire to be solidly in the tradition set by stars such as Stella Chiweshe, blended with the influence of more guitar-oriented African artists such as Thomas Mapfumo and Oliver Mtukudzi. There's also a softer pop/soul influence -- Chiwoniso doesn't hammer as hard at the tempo of her tunes, in the way Chiweshe does on her propulsive chimurenga style, but the hypnotic allure of the mbira still cascades forward, and draws receptive listeners inside a lush, multi-textured mix. Likewise, while Chiwoniso tilts towards the classy vocal style of Angelique Kidjo, et. al., she doesn't lose the African-ness and traditional sound her music is based on. Since I don't speak the language(s), the political content escapes me (which is probably just as well, considering what a mess Zimbabwe has become in recent years...) but the universal dialect of musical joyfulness comes through loud and clear. A nice new African pop album - definitely worth checking out!

Ablaye Cissoko & Volker Goetze "Sira" (ObliqSound, 2008)



(Produced by Volker Goetze)
A beautiful collaboration between Senegalese kora player Ablaye Cissoko and German jazz trumpeter Volker Goetze. The mix of griot music and cool jazz is impeccable: Goetze, playing in the reserved, minimalist style of Miles Davis and Chet Baker perfectly compliments Cissoko's gentle, mournful performance. Neither element overshadows or disrupts the other, instead each is guided by the other. Particularly nice are the passages in which the melodies are doubled, note for note, on each of these distinctively mellow instruments; there is a tonal quality in this harmonization that is unique and new, and the entire album is quite lulling and soft. Cissoko also sings on many tracks, in a dreamy, remote style that also fits the vibe that these two musicians have struck. Some might find this album a bit gooey, but I've been enthralled with it -- it's the kind of record I can have on in the player for days on end and still be delighted by every time I hear it. Definitely worth checking out.
---
---



African Music Index
World Music Index


---