! MP3 02/15/09, 01/08/10, 02/04/11, 02/06/12 > <! update 01/08/10 > <! outside 00/00/00 > <! pix 00/00/00 > <! icons 02/04/11 >
---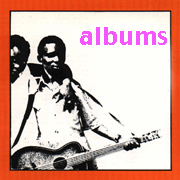 Hi -- welcome to my African music review section. This page includes records by artists under the letter "J". More African music resources can be found at the main index page.
By the way, I'm hardly a world's expert on African music, and this list is kinda whatcha call a "work in progress," so please feel free to make suggestions and comments.
---
A | B | C | D | E | F | G | H | I | J | K | L | M | N | O | P | Q | R | S | T | U | V | W | X, Y, Z | Comps

---
MUSICAL STYLES: Afro-Beat | Music of Cape Verde | South African Jive 'n' Jazz | Main Africa Index
---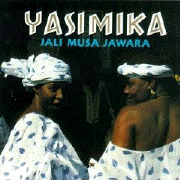 Jali Musa Jawara "Yasimika" (Hannibal, 1983)


Gorgeous! Originally issued in 1983, this is one of the finest African albums ever recorded, and one of the first records to draw me firmly into the orbit of Malian music. Pulsating, gentle, irresistibly hypnotic, it features the masterful, restless kora work of Jami Musa Jawara on four long, radiant songs, accompanied by a soulful, keening female chorus. This has to be heard to be appreciated, and once you hear it, you'll be a fan for life. The only downside is that you'll have a hard time finding other, similar albums of such high calibre (although the search will be fun!) Great stuff.


<! http://en.wikipedia.org/wiki/Music_of_Mali > <! a highwater mark in the back-to-roots movement of the 1980s >
Jali Musa Jawara "Soubindoor" (Mango, 1988)


(Produced by Nick Gold)
Another elegant and otherworldly album, this time with a slightly more biting edge to the vocals, and a brisker pace than before. Although this doesn't have the same eerie, mystical feel as Yasimika, this is a still a strong album, alternately pleasing and unusual... Includes two long (ten minute-plus) tracks, but also a brace of shorter songs making this perhaps a little more accessible (or radio-friendly) as well.
Jihe & D'Gary "Horombe" (Indigo-France, 1995)

Bola Johnson "Man No Die" (Vampi Soul, 2010)





<! Nigerian artist working in various styles: highlife, calypso to funk, and Afrobeat >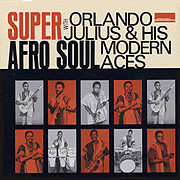 Orlando Julius & His Modern Aces "Super Afro Soul" (Afro-Strut, 2000)


Sizzling '60s funk from this Nigerian Afro-Pop pioneer. Bandleader Orlando Julius eventually made his way to the U.S., where he worked in the soul scene... But here he was ripping his way through a blend of local highlife and furious, James Brown-style R&B. The music is aggressive and punchy, but it also has some deep, serious grooves. If you want to hear where Fela and the bands that followed got their groove from, you'll want to check this guy out!


<! 1. Mapami 2. Efoyeso 3. Ise Owo 4. Solo Hit - Orlando Julius, Fayehun, Eddy 5. Oni Suru 6. Wakalole 7. Ma Fagba Se Ye Ye 8. Bojubari 9. My Girl - Orlando Julius, White, Ronald 10. Jagua Nana 11. Ijo Soul 12. Topless 13. Olulofe 14. E Se Rere > <! One of the most innovative and pioneering musicians of his time, Orlando Julius has made an amazing difference to the Nigerian music between the '60s and '70s. Our double CD pack includes "Super Afro Soul" with Orlando Julius & his Modern Aces, and "OrlandoŐs Afro Ideas 1969-72" by Orlando Julius & his Afro Sounders. A mind blowing mix of Nigerian highlife style with jazz, soul, and funk. Super Afro Soul was Orlando«s first album, released in 1966, a head on collision between HighLife (the music of West African political/social aspiration at tha time) and «60s Soul from the USA (the soundtrack of Afro-America«s struggle for civil rights and equality). Before that Orlando, born 1943, had been playing with Highlife stars Flamingo Dandies, with Juju music star I.K. Dairo«s Dance Band, and with Eddy Okunta«s Top Aces in Lagos, all of them important groups in Nigeria. But around this time, with his own band The Modern Aces, his two musical obsesions, Jazz (Parker, Coltrane) and Highlife, were joined by a third, as the airwaves filled wit the sounds of 60«s Soul. Orkando«s Ideas, the CD2 in our pack, is a compilation of the other two albums Orlando Julius recorded for Polygram. Here you can hear the evolution of his sound along with the changes that were happening on the Lagos scene. Orlando formed a larger band, the Afro Sounders in the late «60s and began to explore and altogether deeper, funkier highlife fusion, responding to psychedelia (Psychedelic Afro Shop), the deeper funk grooves that were coming from the USA (James Brown Ride On) and also to Fela Kuti«s new Afrobeat (Alo Mi Alo). The tracks are longer, the sound mellower, the rootsier grooves profoundly hip shaking.As the '70s rolled on OJ decided to leave Lagos and went to the USA where he worked with the cream of «70«s US soul (Isaac Hayes, Bark Kays, O«Jays, Chaka Khan, Curtis Mayfield) and later with many jazz stars like Miles Davis, Chick Corea, Sarah Vaughn, and Art Blakey, before returning to Nigeria in 1999 and forming the Nigerian All Stars with whom he has recently celebrated his fourtieth anniversary as one of Nigeria«s funkier ever musical pioneers. >
Orlando Julius & His Afro Sounders "Orlando's Afro Ideas: 1969-1972" (Soundway/Ekosound, 2004)

Orlando Julius & His Afro Sounders "Super Afro Soul" (VampiSoul, 2006)






<! 2-CD set - different than Y2K collection? >
Orlando Julius (Ekemode) "Longevity And Reclamation" (NuWorld Music, 2006)


Domingo Justus "Roots Of Juju: 1928" (Heritage, 1993)


Rather stark, early historical recordings made for the Royal Zonophone company by a Nigerian singer, abroad in England in the late 1920s. Not much is known about this fella, although the use of guitar accompaniment on some of these tracks (most are sung a capella...) places him in the forefront of the development of guitar-based African pop, and Nigerian juju music, in particular. For the average listener, these old recordings are probably a bit too inaccessible, but folks who are trying to seriously dig under the surface and discover some of the historical roots of the style may find these recordings quite interesting.
---
---



African Music Index
World Music Index


---