! MP3 02/15/09, 01/08/10, 02/06/12 > <! update 01/08/10 - still need Salif Keita page > <! outside 00/00/00 > <! pix 01/08/10 > <! 02/15/09, 01/08/10: several artists to be updated - also last name Kouyate should be researched > <! icons 02/04/11 >
---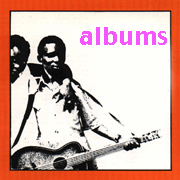 Hi -- welcome to my African music review section. This page includes records by artists under the letter "K". More African music resources can be found at the main index page.
By the way, I'm hardly a world's expert on African music, and this list is kinda whatcha call a "work in progress," so please feel free to make suggestions and comments.
---
A | B | C | D | E | F | G | H | I | J | K | L | M | N | O | P | Q | R | S | T | U | V | W | X, Y, Z | Comps

---
MUSICAL STYLES: Afro-Beat | Music of Cape Verde | South African Jive 'n' Jazz | Main Africa Index
---
Kakande "Dununya" (Jumble, 2008)



(Produced by Peter Fand)
Lively, modern West African music with strong melodies and urgent rhythms... Malian balafon player Famoro Dioubate and vocalist Missia Saran Dioubate lead this energetic ensemble in a set that opens with a real bang, on the propulsive pop tune, "Kakande," which combines the manic beauty of Zimbabwean chimurenga music to the lush melodicism of Malian acoustic music. It's a great, groovy, irresistible African pop song, one that will send you back to hit the "replay" button a time or two. The rest of the album is mellower and set at a more relaxed pace, but it mines familiar, comforting terrain. Like so many others, Famoro comes from a long line of musical masters, and as a young, up-and-coming virtuoso, he shows a lot of promise here. Looking forward to the next album!
Dominic Kakolobango "Habari Za Kwetu" (Sonodisc, 1996)


Dominic Kakolobango "African Acoustic" (Africassette, 1999)


(Produced by Dominic Kakolobango & Elijah Wald)
Gentle, gorgeous acoustic music from a modern disciple of Congolese guitarist Jean-Bosco Mwenda. Playing with traditional accompaniment, including old soda pop bottles for percussion, Kakolobango adds his own nuances and additional layers to the template created by older master musicians such as Mwenda and Losta Abelo; with the modern production, this seems somehow richer and more ornate, but no less in touch with the musical roots of the earlier recordings. American author-muscian Elijah Wald plays second guitar, although his role is not simply to play rhythm -- the two improvise and intertwine their melodies in a dazzling, playful set, with Wald adding a more distinctly blues-based sensibility. They plug in and play electric, as well, and that's lovely, cheerful stuff, too -- the kind of music that makes you glad to be alive. Recommended!

Kanda Bongo Man "Amour Fou" (Hannibal, 1988)


Some of the finest West Africa soukous dance music ever recorded. Wedding his light, playful vocal style and nimble, bouncy rhythms to the astonishing guitar work of lead guitarist Diblo Dibala, Kenyan superstar Kanda Bongo Man created some of the loveliest, most undeniably fun music you'll ever hear. At first blush, the production sounds too slick, in the archetypal "Parisian" style, but any reservations in that regard will instantly be washed away once the melody and rhythm kick in and take ahold of your head... This is music that will get your toes tapping and will stick in your head for days to come. Dibala's contributions are immeasurably gratifying, as he transforms the simplest of sounds into jaw-dropping marathon runs, repeating melodies and improvising new, tightly-woven patterns at a breakneck pace. The musicianship is stunning, but it all sounds so effortless and mellow... This is certainly one of the band's best records, well worth checking out!

Kanda Bongo Man "Kwassa Kwassa" (Hannibal, 1988)


Another great record from this Kenyan crew... The first few tracks are of a piece with the earlier Amour Fou album -- giddy, propulsive, lightning-fast yet completely relaxed, dreamily lulling and totally addictive. I found myself less interested in some of the later tracks, though, which indulge in more cloying or clunky pop arrangements, and the more space that opens up around the guitar, the more likely you are to hear the '80s-style synthesizer, with an airy, artificial tone that reminds me of the kind of '80s synth-pop that I loathe. (Don't get me wrong: the music on this record is mostly quite fine, there are just a few production touches I'm not fond of...) Still, the good songs are amazingly good, and if you liked his other records, you'll want to check this one out, too. This was the last album recorded with guitarist Diblo Dibala and, once again, they made great use of his considerable talents. Recommended!
Kanda Bongo Man "Zing Zong" (Hannibal, 1991)


I haven't heard this one yet, but I hear it's on a par with Amour Fou and Kwassa Kwassa, which means I'll be keeping my eyes open for a copy to call my own... someday!


<! originally from the Congolese band Orchestra Belle Mambo > <! Kanda Bongo Man "Iyole" (1981) B003YTL4ZY - MP3 Kanda Bongo Man "Djessy" (1982) B002C3Z3OQ - MP3 Kanda Bongo Man "Amour Fou" (1984) Kanda Bongo Man "Malinga" (1986) Kanda Bongo Man "Lela Lela" (1987) Kanda Bongo Man "Sai Liza" (Melodie, 1988) B00008FDPK B004676LB0 Kanda Bongo Man "Kwassa Kwassa" (1989) Kanda Bongo Man "Isambe Monie" (Melodie, 1990) B00008FDPL Kanda Bongo Man "Zing Zong" (1991) Kanda Bongo Man "Sango" (Celluloid, 1992) B00000HYBK Kanda Bongo Man "Soukous In Central Park" (Hannibal, 1993) B000000627 Kanda Bongo Man "Sweet" (B Mas, 1995) B00000K5BT Kanda Bongo Man "Welcome To South Africa" (1995) B00000DYWF Kanda Bongo Man/Godzom "Francophonix: Highlights From The Ninth Cartagena Festival" (Charly, 1999) B00000B1DI B000S5A77I Kanda Bongo Man "Balobi" (Wrasse, 2002) B0000793ZO Kanda Bongo Man "Swalati" (Gallo, 2003) B0000UX5FC Kanda Bongo Man "Le Rendezvous Des Stades" (2010) B003EJ8L28 - MP3 - what was original release date? Kanda Bongo Man "Non-Stop Feeling" (2010) B0041WUQPC - MP3 - what was original release date? NO MP3s as of 02/09 > <! Cisse Diamba Kanoute "The East Wind" (Palm World, 1994) B001BSJPY2 African kora easy listening music; includes a horrible English-language cover of Dylan's "I Shall Be Released." > <! Moussa Kanoute - others? >

Moussa Kanoute "Dance Of The Kora" (Rhino, 1996)



Pape Kanoute "Griot From Senegal" (Arc Music, 2003)


Soft, easygoing world pop from Senegal, mixing Mandinga kora music and wailing vocals with various world styles -- jazz saxophone, what sounds like an Australian digeridoo, and the like. I guess I like things more traditional sounding, but I'm sure many folks who enjoy cross-cultural fusions that are easy on the ears would find this a very pleasant, intriguing album.
Sambala Kanoute "Baden Tonoma" (Sonodisc, 1999)

Lokua Kanza "Lokua Kanza" (Universal, 1993)

Lokua Kanza "Wapi Yo" (BMG/Catalyst, 1996)

Lokua Kanza "Lokua Kanza 3" (Universal, 1998)


Lokua Kanza "Toyebe Ti" (Universal/Sunnyside, 2002)



This soft-spoken Congolese crooner combines soulful, jazz-tinged acoustic arrangements with a similarly modern vocal style, which incorporates strong hints of America's Bobby McFerrin and Brazilian MPB star Djavan. The style may be too slick for some, but it's inventive and consistently engaging. Folks looking for something nice and mellow from contemporary Africa might enjoy checking this disc out.
Lokua Kanza/Gerald Toto/Richard Bona "Toto Bona Lokua" (Universal/Sunnyside, 2005)


Lokua Kanza "Plus Vivant" (Universal, 1998)


Kasumai "Senegal: Urban Rhythms" (Arc Music, 2005)



A fine album by a popular band from the Casamance region of Southern Senegal... They intersperse pop songs with lyrics in Wolof, Mandinka and Jola with instrumental performances that delve deep into traditional sources, including several percussion-only tracks. It's nice, and gives some new perspective on the music of a country that is increasingly identified with M'balax and other modern, guitar-based pop styles... Worth checking out!

Mamani Keita & Marc Minelli "Electro Bamako" (Palm/Universal-France, 2003)



A canny world-beat interweaving of West African pop and jazz-tinged, tres, tres Euro electronica. Keita's high, keening vocals -- pure Mali -- cut through the tightly-wound, somewhat fastidious arrangements in a manner that makes the whole project mesh together better than one might imagine. This album is very much a creature of programming-heavy modern studio production, but it has a certain soulfulness and innovative breadth that makes it sound original and appealing. I find it a little too slick, yet it's also an album that wins me over the more I listen to it... worth checking out!
Mamani Keita "Yelema" (Universal, 2006)






<! Salif Keita - Malian superstar -- went pop in a big way with move to France > <! Salif Keita "Seydou Bathili" (Sonodisc, 1982) B00000II4X w/ Les Amb. 1. Seydou Bathily 2. Saly 3. Kandja 4. N'Toman 5. Namory 6. Super Coulou Salif Keita "Soro" (Island/Mango, 1987) B000026FO7 B001NT7PX2 very slick Salif Keita "Ko-Yan" (Island/Mango, 1987) B00008XS4K Salif Keita "Amen" (Island/Mango, 1987) B000003QKQ B001NS3Q3Q Salif Keita "Destiny Of A Noble Outcast" (PolyGram, 1991) **** video - VHS 630209156X Salif Keita "69-80" (Sonodisc, 1994) B00000II4W Salif Keita "Folon" (Island/Mango, 1995) B000024J83 Salif Keita "Rail Band" (Melodie, 1996) B00008FDPT Salif Keita "Papa" (Blue Note, 1999) B00000JC9J B000UFRQHK Salif Keita "Mama" (Capitol, 2000) B000NK5ZS4 Salif Keita "The Best Of Salif Keita" (Wrasse Records, 2001) B0002XB9IC Salif Keita "Sosie" (Mellemfolkeligt, 2001) B00000DDAL Salif Keita "Moffou" (Universal Jazz France, 2002) B00005UW5X Salif Keita "The Best Of The Early Years" (Wrasse Records, 2002) B00007BH9L Salif Keita "Remixes From Moffou" (Universal Jazz France, 2004) B00015OS3E B000V6MRLS Salif Keita "M'Bemba" (Universal Jazz France, 2005) B000F3UADE B000V6OLC6 Salif Keita & Kante Manfila "The Lost Album" (Cantos, 2006) B000FQJPFK B000QZWR1E >

Seckou Keita "Mali" (Arc Music, 2002)



Another lovely set of kora-based music from Mali. Keita, a junior member of the highly regarded Keita and Cikkokho families, has for several years been an integral part of the lush, high-tech world fusion explorations of the Baka Beyond ensemble. Here he eschews the lush mixes and ornate, pan-cultural approach of the Baka band, in favor of a softer, more traditional sound. His kora work is superlative, and these songs float out gently to meet their audience. This album isn't ground-breaking, but it does show that Keita knows his musical roots, and can make an album fine enough to please the back-to-basics crowd. Recommended.

Seckou Keita Quartet "Tama-Silo: Afro-Mandinka Soul" (Arc Music, 2006)



This is a very, very nice record, a sweet mix of mellow, West African kora (harp) music and expansive, inventive arrangements that, while not straying too far from harpist Seckou Keita's Senegalese roots, still offers a new musical template to work from. Keita's band is a compact foursome, with players from Egypt, Gambia and Italy, but their sound is remarkably large, and thoroughly satisfying. Most of all, this album is quite pleasant and easy on the ears... there's depth here as well, but nothing abrasive or offputting. This disc has lasted a long time in the CD carousel around here, and we'll be listening to it for some time to come. Recommended!


<! B003PT4O32 >

Seckou Keita Quartet "The Silimbo Passage" (World Artventures, 2008)



(Produced by Seckou Keita)
A beautiful album of modernized Senegalese kora music, performed by expatriate Seckou Keita and his UK-based quartet. For the most part, the songs follow a traditional-sounding path, with fine vocals from both Keita and Ms. Binta Suso, who personifies the cutting, keening, Arab-influenced quality of many West African vocal styles. There's a lovely interplay between the voices and the gentle persuasion of the music... Also in the mix is the lively violin of Samy Bishai, who brings in both European and Arabic influence. If you're looking for one of those records you can listen to again and again, one that fits (or shapes) many moods, this mellow yet haunting set is certainly worth picking up. Recommended!


<! Kekele - several albums >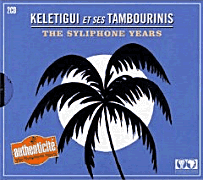 Keletigui & Ses Tambourinis "The Syliphone Years" (Stern's Africa, 2009)



A gorgeous 2-CD set of classic recordings by the 1970s Guinean dance Keletigui & Ses Tambourinis, led by keyboard player Keletigui Traore... Keletigui had a solid, consistent sound -- it's sweet, melodic music, generously represented in this classy reissue collection. Highly recommended!


<! Bi Kidude "Zanzibara, v4: The Diva of Zanzibari Music" (Buda Musique, 2007) B000K15U4K B0014CYZDG >

King Bruce And The Black Beats "Golden Highlife Classics" (RetroAfric, 1997)


Classic old-style highlife from one of the pivotal Ghanian bands of the 1950s and '60s. There's a heavy Cuban rumba influence, as well as a hint of ska-like Caribbean dance grooves. This large, horn-led ensemble was one of the first big commercial successes in the West African pop scene, and was a proving ground for a whole generation of great musicians. Another winner from the folks at RetroAfric.

Peter King "Shango" (Strut, 2002)


Vintage Nigerian afrobeat, from a previously-unreleased album recorded in 1974. Although this opens in a typically James Brown-ish rhythmic romp, it quickly settles into mellower, acid-jazzish explorations, such as the nice soft, flute-led groove of "Mr. Lonely Wolf." In general, King's horn section seems a bit too brash and atonal, and prone to overly-muscular playing -- sounds like everyone wanted a solo, and hadn't quite gotten the power of an ensemble playing "on the one." But the drumming -- King himself, if I'm not mistaken -- is consistently sinuous and creative, dancing around the margins of the rhythm, playful and dexterous, and even if the trumpets are blaring a bit offkey, it's fun to follow what King is up to on the snares. Cool stuff -- worth checking out!
Peter King "Omo Lema" (1976)

Peter King "A Soulful Peter King" (1977) (LP)

Peter King "Moods" (1978) (LP)

Peter King "Man Of Distinction" (1979)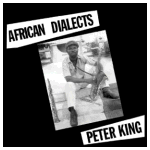 Peter King "African Dialects" (Grandstand/Secret Stash, 1979/2013)


(Produced by Peter King)
Nigerian multi-instrumentalist Peter King was one of many talented African musicians who made the scene in Europe during the 1960s and '70s, recording several albums in London, where he worked with numerous reggae and jazz musicians while developing his own sleek blend of styles. The opening track of this 1979 album is the perfect distillation of several musical elements which, as the title implies, are all "dialects" of African roots: the song is a sensuous blend of West African highlife, funky contemporary jazz fusion and a subtle dash of reggae riddims. It's followed by the equally alluring "Happy Song," a light lovers reggae tune with curious hints of psychedelic folk; other tracks add touches of dub, disco and calypso... It's very much a record of its time and place, the era when reggae vied with punk as the cutting edge of British cool. This was the last record King recorded before returning to Nigeria and, while released in Africa, became a sort of "lost album" for many years: kudos to Secret Stash for finding it and bringing it back for modern listeners to hear. There are some real gems on here!


<! Mikki Sounds (Orbitone, 1975) Omo Lewa (Orbitone, 1976) A Soulful Peter King (Orbitone, 1977) Moods (Tyrone Records 1978) African Dialects (Grandstand 1979) Omolewa Palm Wine Vendor (2002) >
Habib Koite "Muso Ko" (World Village, 1995)


Habib Koite "Ma Ya" (Putumayo, 1998)



Habib Koite "Baro" (Putumayo, 2001)



Another lovely, acoustic-based record from this innovative Malian pop star... This disc is less experimental than his previous albums, but perhaps even more satisfying. Very pretty stuff -- great to have on as something you can space out to, but also very captivating and musically rich, full of expansive soundscapes, yet admirably restrained. Certainly one of his most even and consistent albums to date. Recommended!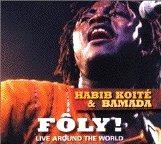 Habib Koite "Foly! Live Around the World" (World Village, 2004)



When I saw Habib Koite and his band Bamada play live, opening for Oumou Sangare a few year back, I was a little surprised by how rock'n'roll they were, with Koite slinging his electric guitar about and even striking a rock pose or two... This double CD concert set captures some of that vibrancy and playfulness, although it sticks closer to his more "African" musical roots. It's every bit as fine as the studio albums that precede it, and also provides some considerable incentive for you to go out and see him in concert, if you get the chance.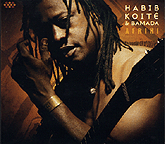 Habib Koite "Afriki" (Cumbancha, 2007)



Another absolutely gorgeous acoustic album from Malian pop star Habib Koite and his ever-fluid band, Bamada. Koite's signature sound hasn't changed much over the years, and that is very good news for fans both new and old. Dancing, delicate balafon riffs interlace with graceful guitars as Koite's gentle, insistent vocals are buoyed by a keening, floating African chorus... This is a lovely record to listen to when you want to instill a bit of peace and quiet in your life... It's not sappy or saccharine or vacuous, just quite beautiful and calm, a rich, solid musical offering that will reward listeners for years to come. Recommended!
Habib Koite "Jusqua Tombouctou" (DVD) (2007)

Kokolo "Fuss And Fight" (Afrokings, 2002)


Kokolo "More Consideration" (Full Cut, 2004)


Kokolo "Love International" (Freestyle, 2007)

Kokolo "Heavy Hustling" (Record Kicks, 2009)


Wendo Kolosoy "Nani Akolela Wendo?" (1993)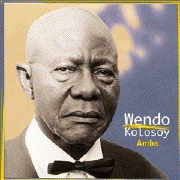 Wendo Kolosoy "Amba" (Melodie/Marabi, 1999)



(Produced by Christian Mousset)
An absolutely lovely, gentle album -- a classy set of classic Congolese guitar music, with Kolosoy and his crew playing with such affection for the music that you can't help but smile and groove along. The vocals are sweet as well -- Kolosoy doesn't sing most of the time; his croaking old-man voice floats to the front from time to time, but it's nice to hear as well... That's how you know you're in the hands of a master musician. Recommended -- definitely worth tracking down!


<! (Reissued on World Village - 2003) >

Wendo Kolosoy "Marie Louise" (Indigo/Harmonia Mundi, 2000)



One of life's little pleasures is the discovery of a "master musician," by which we mean, of course, some grizzled, cheerful old-timer that most people would never have heard of have heard of in a million years, were it not for the efforts of some dedicated maven at a teeny record label somewhere... someone who knew the story of what that artist did way back when, and dragged them back into the studio to show folks that they've still got what it takes today. Meet Wendo Kolosoy. One of the pioneers of the early-'50s Congolese "rumba" style, Kolosoy has a relaxed vocal style that radiates good cheer and a calm confidence in the power of his music. This is matched by the dreamy guitar work of Vula Missy and Zacharie Onana, which is also gorgeous, but not flashy. Other West African old-timers such as I. K. Dairo have been recording constantly over the decades, but sometimes I find the understated tone of albums like this preferable to other, more upbeat, efforts, as often there is a lot to be gained by speaking softly and saying little... A gently playful, unhurried album that holds up to repeated listenings.
Wendo Kolosoy "On The Rumba River" (Soundtrack) (Harmonia Mundi, 2007)

Wendo Kolosoy "On The Rumba River" (DVD) (First Run Features, 2007)

Wendo Kolosoy "Banaya Papa Wendo" (IglooMondo, 2007)

Wendo Kolosoy "Botyiaki Ntembe" (Cristal, 2011)


Wendo Kolosoy/Various Artists "The Very Best Of Congolese Rumba: The Kinshasa-Abidjan Sessions" (IglooMondo, 2008)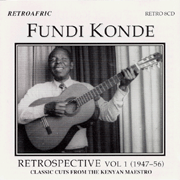 Fundi Konde "Retrospective v.1: 1947-56" (RetroAfric, 1994)



This is my favorite of the RetroAfric albums, since it highlights such a different, older musical style. Kenyan guitarist Fundi Konde began his career during WWII, and started recording in the late 1940s. This mellow, acoustic version of the popular rumba style has a distinct calypsonian feel to it, and an unusual instrumental flavor -- country-flavored accordions and a light clarinet poke up next to a gently strummed acoustic guitar. Konde's vocals are similarly whistful and relaxed, underscoring the sense of novelty and antiquity in these classic tracks. There's not a lot of African pop (that I've heard) that sounds like this -- it's a real treat, and highly recommended for anyone in search of something really new and different to check out.
Konono No.1 "Congotronics" (Crammed Disc, 2005)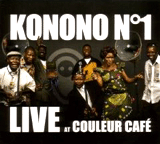 Konono No.1 "Live At Couleur Cafe" (Crammed Disc, 2007)



Awesome! The Konono ensemble cut a wide swath through the world of African pop, but while their studio albums were quite striking, they also had a slightly stiff, contrived air about them. However, this live concert performance is mindblowing, an irresistibly energetic, propulsive burst of musical giddiness and joy. The centerpiece sound is an amplified finger piano that blasts away with full-throttle melody and deliciously gritty electronic distortion. The rest of the band follows suit, with some of the wildest, giddiest party music ever recorded. The band goes at it full tilt boogie, and their audience responds in kind -- this is a crazy-sounding record, but it sure is lots of fun!
N'faly Kouyate & Dunyakan "Kora Grooves From West Africa" (Arc Music, 2004)



I've never been a big fan of Kouyate's main band, the crossover-y world-beat band, Afro-Celt Sound System... That, and the somewhat generic and clubby-sounding album title had me going into this album with my guard up. Turns out it's a pretty nice record... It's more inventive and outgoing than many traditionally-oriented kora albums, but not so far out there the groove gets lost, and not so groovalicious that the music's acoustic base gets buried under some bland electronica-crossover soundscape... Instead, it's a lively set with a nice mix of vocals and instrumental work... worth checking out!
N'faly Kouyate & Dunyakan "Tunya" (Galileo Music, 2008)


Jacob Sam & Kumasi Trio "Volume 1" (Heritage, 1996)


Kumasi Trio & Jacob Sam "Volume 2" (Heritage, 1996)


Primeval 1928 African pop recordings from West Africa's Gold Coast (aka The Congo). Highlights expressive, talkative vocals set in front of two acoustic guitars and a rather lively, almost chaotic, drummer. After a while the tracks start sounding a lot alike, but for true devotees of African pop music, this is a historical goldmine. Compelling and a bit eerie. (Wish I had Volume One!)





Fela Kuti - see artist discography



<! Femi Kuti "Femi Kuti" 1995 album(?) listed on Amazon, not on wiki (Motown, 1995) B000006M99 >

Femi Kuti "Shoki Shoki" (MCA/Barclay France, 2000)



Nigerian bandleader Fela Kuti's son weighs in with a sharp, no-nonsense pop release. This starts off with the dynamic, aggressive, and irresistible "Truth Don Die", a lightly political dance tune with a hyperactive beat that just won't quit. The rest of the album mellows down pretty quickly, dipping into lite jazz motifs from time to time. Overall, though, I'd say Femi has got the goods to take over where the old man left off. Definitely worth checking out.
Femi Kuti "Shoki Remixed" (Nuphonic, 2000)






<! remixes featuring Ashley Beedle, Kerri Chandler, Francois Kervorkian, Mateo & Matos, Nuyorican Soul & many more >

Femi Kuti "Fight To Win" (MCA/Barclay France, 2001)



This disc delves deeper into "world beat" crossover territory... When the band is blazing away, it's tight, compact and compelling. But a few touches -- a chord change here, a production twist there -- may raise warning flags for a few listeners. Also, the decision to sing the songs in English may be a drawback, both because Femi seems uneasy with the rhythm of the language, and because the baldness of his revolutionary politics comes off as belaboured and a bit flat aesthetically -- distracting, overall. But for those of us looking for a funky soundtrack to the revolution that will not be televised, this could certainly fill the bill. Not my cup of tea, but Fela/Femi fans should find plenty here to keep them happy.
Femi Kuti "Africa Shrine" <! live > (P-Vine, 2004)


Femi Kuti "Live At The Shrine" (Deluxe Edition DVD) (Universal, Palm Pictures, 2005)


The Africa Shrine album, along with a concert DVD of the same show.
Femi Kuti "Day By Day" (Wrasse/Mercer Street, 2008)


Femi Kuti "The Best Of Femi Kuti (Universal/Wraase, 2004)


Femi Kuti "Femi Kuti The Definitive Collection" (Wraase Records, 2007)



A 2-CD set


<! (NOT SURE WHAT THESE ARE...) * No Cause For Alarm? (1989, Polygram) * M.Y.O.B. (1991, Meodie) >

Seun Kuti "Seun Kuti & Fela's Egypt 80" (Disorient, 2008)





<! Fela's other son... >

---
---



African Music Index
World Music Index


---