! MP3 02/10/09, 01/08/10, 02/06/12 > <! update 00/00/00 - need full Franco discography > <! outside 00/00/00 > <! pix 01/08/10 > <! icons 02/04/11 >

<! Festival Des Maquisards "Zela Ngai Nasala" B00000II0C Sam Mangwana's old band (1968-0n?) Brenda Fassie >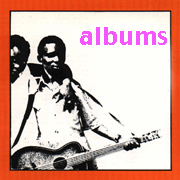 ---
Hi -- welcome to my African music review section. This page includes records by artists under the letter "F" More African music resources can be found at the main index page.
By the way, I'm hardly a world's expert on African music, and this list is kinda whatcha call a "work in progress," so please feel free to make suggestions and comments.
---
A | B | C | D | E | F | G | H | I | J | K | L | M | N | O | P | Q | R | S | T | U | V | W | X, Y, Z | Comps

---
MUSICAL STYLES: Afro-Beat | Music of Cape Verde | South African Jive 'n' Jazz | Main Africa Index
---

Mose Se (Fan Fan) "Belle Epoque" (RetroAfric, 1994)



More great Congolese guitar music, with mellow, loping grooves galore. Fan Fan is a guitarist who over the years worked with OK Jazz and Zaiko Langa Langa... These tracks are taken from sessions he did in the early '70s and early '80s... and they're all rather good! Nice album.
Mose Se (Fan Fan) "The Congo Acoustic" (Triple Earth, 1999)



Fantcha "Criolinha" (Tinder, 1998)



Lush pop music from the Cape Verde Islands... The influence of Cesaria Evora is strongly felt here, on her protege's work. This collection is a little vexing: it alternates song by song between muscular, sensual Cape Verdean pop, and fairly icky, drippy, quiet-stormy material. The half which is good is quite lovely, but the in-between tracks are a bit of a turnoff. Worth checking out, but kind of goopy.

Fantcha "Viva Mindelo" (Lusafrica, 2001)


Brenda Fassie "The Queen Of African Pop -- Greatest Hits: 1964-2001" (Narada, 2004)


Brenda Fassie "Mama" (Terrascape, 1997)





<! (1964-2004) died of cocaine overdose Partial discography: * 1994: Brenda Fassie * 1997: Memeza * 2000: Thola Amadlozi * 2001: Brenda The Greatest Hits * 2003: Mali * 2003: The Remix Collection * 2004: Gimme Some Volume >


Fela (Kuti) - see artist discography





Follow, Follow "Afro-Groove" (Ombu, 2005)
Canadian devotees of Fela Kuti's driving afrobeat sound, this Quebec-based sextet throw themselves wholeheartedly into the material, covering a half dozen Fela classics, one tune by Maceo Parker (tipping us off to their funk-jazz leanings) and add a couple of original compositions to the afro-funk canon, written by guitarist Rainier Weins, who has kind of a Terry Haggarty vibe going on... These guys aren't as tight as other revivalists such as Antibalas (for example) but they also aren't as rigid or jittery... They're pretty loose and funky, and this disc seems like a good approximation of what their live sets must be like; certainly worth checking out if you're into the whole Fela sound, or even into the more danceable jam-band stuff... (Available through the band's website: www.ombu.ca )

Franco "Originalite: The Original 1956 Recordings Of O.K. Jazz" (RetroAfric, 1990)



The earliest work of one of Africa's great pop great pioneers. In the late 1950s, Congolese guitarist Franco Luambo Makiadi (usually just known as Franco) opened African music up to the hypnotic, shimmering style of intricate, echo-y electric guitar work which later became dominant in the music of so many African countries. Artists as diverse as Tabuley Rochereau and King Sunny Ade all owe a debt to Franco's experimental early work. This album collects Franco's best work from 1956-59... it's great stuff, and entirely essential to any student of African pop.

Franco "The Very Best Of The Rumba Giant Of Zaire" (Manteca, 2001)


An outstanding sampler of Franco's entire career, starting off with early 'Fifties hits such as "On Entre O.K., On Sort K.O.," and cruising through to his late '80s soukous material. It's all hella good. This collection also has very good liner notes, informative about the artist as well as the songs. Recommended!


<! no MP3 >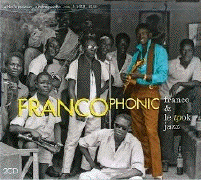 Franco & Le TPOK Jazz "Francophonic: A Retrospective Vol. 1 1953-1980" (Stern's Africa, 2008)



An awesome 2-CD overview of one of Africa's greatest musicians, Congolese bandleader Francois Luambo Makiadi, aka Franco, one of the most innovative and influential guitarists in the African pop scene. This is an luscious, luxurious collection, including some of his earliest work -- including a track from his first recording session, in 1953 -- and arcs forward to 1980, presenting ample chunks of his joyful early years as well as the deep, hypnotic grooves of the funk-laced 1970s. In his later work, long tracks of ten minutes or more were common, and the songs on Disc Two are fabulous examples of African psychedelia at its finest... I also love the early stuff -- there's something very special about West African pop from the 1950 and '60s, and this collection perfectly captures that magical essence. If you want to explore classic African guitar pop, begin here and you'll be off to a great start. Highly recommended!
K. Frimpong "...And His Cubano Fiestas" (Secret Stash, 1976/2012)


(Produced by Dr. Oppong Gordon)
Very, very cool. From the band name, I'd expected an early-'60s style Latin dance-by-way-of-Africa set, but was pleasantly and profoundly surprised by the subtle, multi-textured mix of African highlife, reggae and groove music. Ghanaian bandleader Alhaji K. Frimpong produced a real gem here, adding several new layers to the African pop of the era, producing an album with a fairly unique sound. Most notable is the open, uncompressed sound mix, in which all the different instruments can be clearly heard, as opposed to many albums where percussion and other instruments give way to more dominant guitars and horns -- here, each note of the drums and percussion hangs in the air, clear as a bell, as do the meandering keyboard riffs, which add a kind of lazy, trancelike feel, similar to the Ethiopian groove music of the same era. This is nice stuff, and will add a lot to any mix of classic Afro-Pop. Highly recommended!


<! aka "The Blue Album" > <! also a 1995 album? >

Fula Flute "Fula Flute" (Fula Flute Music, 2004)



This New York-based ensemble features the tambin, or Fulani flute of West Africa, played here quite strikingly by soloist Bailo Bah, who growls and vocalizes as he plays, producing an unnerving effect which recalls the defiant, playful saxophone work of jazzman Rashaan Roland Kirk (who also sang while he played) as well as the spectral, droning quality of African author Francis Bebey, on some of his sanza finger piano albums. The ensemble also features instruments such as the kora, balafon and berimbau, in a mix that is lively and immediate. This is one of those albums that will stop you in your tracks and force you to listen: it's an arresting sound, unlike anything else you're likely to have heard. Highly recommended!
Fula Flute "Mansa America" (Fula Flute Music, 2004)


---
---



African Music Index
World Music Index




---