! MP3 02/14/09, 01/07/10, 02/09/11, 02/06/12 > <! update 00/00/00 > <! outside 00/00/00 > <! pix 01/07/10 > <! 02/09: give Francis Bebey, Bembaya, Bonga their own pages > <! icons 02/03/11 >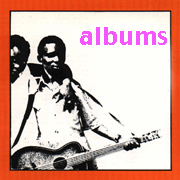 ---
Hi -- welcome to my African music review section. This page includes records by artists under the letter "B" More African music resources can be found at the main index page.
By the way, I'm hardly a world's expert on African music, and this list is kinda whatcha call a "work in progress," so please feel free to make suggestions and comments.
---
A | B | C | D | E | F | G | H | I | J | K | L | M | N | O | P | Q | R | S | T | U | V | W | X, Y, Z | Comps

---
MUSICAL STYLES: Afro-Beat | Music of Cape Verde | South African Jive 'n' Jazz | Main Africa Index
---
Issa Bagayogo "Sya" (Six Degrees/Cobalt-France, 1998)


Issa Bagayogo "Timbuktu" (Six Degrees, 2002)



Issa Bagayogo "Tassoumakan" (Six Degrees, 2004)



Malian kora player Issa Bagayogo, who hails from the southerwestern Wassoulou region, embraces modern pop production without falling into the exoticization trap that plagued kora crossovers in years past... That is, his playing isn't randomly tacked onto some generic dance tracks, and instead there's a cohesive, organic feel to the work, driven by Bagayogo's melodic drive and not-too-mellow vibe. Singing in French and in his native Bambara, Bagayogo is a gentle, guiding figure amid a tightly crafted pop sound. It's a little on the slick side for my personal tastes, but I think most African pop fans will find a lot to enjoy here... Check it out!
Issa Bagayogo "Mali Koura" (Six Degrees, 2008)



Balla Et Ses Balladins "Reminiscin' In Tempo With..." (Popular African Music, 1993)


A gorgeous collection of classic early '70s material from one of the great Guinean guitar bands... This disc mostly draws on the Balladins Objectif Perfection album, but also includes a few tracks from other albums as well. The Balladins band came out of the mid-'60s dissolution of a larger band, and went through a fluid membership which included many members of the Diabate and Kouyate clans, as well as vocalist Manfila Kante, who sings throughout this disc. The band was also briefly known as 'Pivi Et Ses Balladins,' (as heard on the fabulous GUINEA '70s collections), but throughout, their fabulous, richly melodic guitar style prevailed. The mellow, hypnotic rhythmic base may be what you notice about these recordings, but the virtuosity of the guitars is truly amazing. I love the way this music sounds -- it's so beautiful and soulful, and so joyful and complete. Highly recommended.
Balla Et Ses Balladins "The Syliphone Years" (Stern's Africa, 2008)






<! also Balla? B00004SAWG "Jardin De Guinee" >

Les Bantous De La Capitale "1963/1969" (Sonodisc, 1999)

Les Bantous De La Capitale "1974-1976" (Sonodisc, 1997)

Les Bantous De La Capitale "Les Grands Succes Des... v.1" (Sonodisc)


Les Bantous De La Capitale "Les Grands Succes Des... v.2" (Sonodisc)


Les Bantous De La Capitale "Les Grands Succes Des... v.3" (Sonodisc)


Les Bantous De La Capitale "Les Grands Succes Des... v.4" (Sonodisc)


Les Bantous De La Capitale "Les Grands Succes Des... v.5" (Sonodisc)


Les Bantous De La Capitale "Rosalie Diop" (Sonodisc)

Les Bantous De La Capitale "Bakolo Mboka" (Canto, 2008)



Bantu, Featuring Ayuba "Fuji Satisfaction: Soundclash In Lagos" (Piranha, 2005)



Contemporary Nigerian pop known as "fuji" music, which picks up where juju and afrobeat left off... This new, hyper, hybrid incorporates hip-hop and raggamuffin reggae, two styles that I'm not that into, so I guess I might not be the right guy to ask about this album. It didn't do much for me, although I could tell that this group was pretty good, for the genre. Just not my cup of tea.
Baobab - see Orchestre Baobab

Blick Bassy "Leman" (Four Quarters, 2009)



(Produced by Jean-Louis Solans & Jean Lamoot)
A super-mellow acoustic-pop debut from this wispy Cameroonian crooner. The style is descended from crossover-y superstars such as Salif Keita and Youssou N'Dour, although Bassy seems content to linger amid less adventurous arrangements, crafting quiet, lulling tunes full of gentle rhythms and demure sprinklings of African instruments such as the kora and calabash. The style suits his voice, which is calm almost to the point of retiring. It's a pretty-sounding record that many will find rich as well as relaxing -- a little too soft and pop for my tastes, but like so many albums, the more I listen, the more I like. Definitely worth checking out.

Waldemar Bastos "Angola Minha Namorada" (EMI, 1990)


An Angolan-Congolese expatriate living in Portugal, Waldemar Bastos is one of the most creative modern Angolan artists. On this early album, he finds himself a bit mismatched with a mix of standard-issue African pop (in the Parisian mold) and more ambitious, but profoundly irritating, orchestral pop and experimental folk stylings. None of it is suited to his strengths, which come out best in the quieter moments. If you enjoyed his better-known Pretaluz, this might be worth checking out... but I can't say as I would recommend it.
Waldemar Bastos "Pitanga Madura" (EMI)


Waldemar Bastos "Pretaluz" (Luaka Bop, 1998)



Quite lovely! Bastos co-produced this lovely album with the help of Arto Lindsay, whose delicate touch is easy to spot. This is a perfect mix of acoustic balladry and the driving, ringing guitar styles of West Africa. It's gorgeous from start to finish, but also lulling and captivatingly subtle. One of Luaka Bop's best artist albums -- highly recommended!

Waldemir Bastos "Renascence" (Times Square, 2005)



A fine Afro-Pop album by this Angolan expatriate... It's been a while since we've heard from Bastos, and this album -- his first made since visiting his native Angola in 2003, after an absence of twenty-plus years -- was well worth the wait. Bastos has reconnected with his native land and sings, in Portuguese and other tounges, of his hope for renewal and a bright future... His voice is starting to show the years, sagging a little and cracking around the edges, but his emotion is easy to hear, a plaintive mix of sorrow and joy. On first blush, this record seemed a bit conventional, but subsequent auditions brought out the subtlety and gracefulness that characterized Bastos's earlier albums, and it'll definitely grow on you. Bastos works through a variety of African styles, moving effortlessly between soft acoustic material akin to the whistful mornas of Cape Verde and more buoyant, electrified guitar music typical of West Africa. The only dud on the album comes at end, with a loud, intrusive raggamuffin rap (with guest vocals by Chaka Demus) that comes booming and bursting in after along, luxurious, set of markedly quiet, seductive tunes. So, skip that last jarring track, and you'll love this album... But ya gotta remember to keep your fingers on the pause button!
Sam Batcho "Ndol'asu: New Makassi" (Sonodisc, 1995)


Sam Batcho & Babo Elimbi "Makassi Dance" (Sonodisc, 1987)


Mechanically produced, but surprisingly soulful, this featured a strictly synths-and-drum machine sound, but a tight, sprightly sense of melody and infectiously bouncy rhythms... at least on the first few tracks... Midway through, it gets a bit slack, and even sappy on a tune or two. Mostly, though, this is fun... Cameroonian singer Sam Batcho originally came from the Sam Fan Thomas band; his hangdog vocal style is kind of distinctive, and his bouncy phrasing fits in well with the ebullient makassi style... These songs aren't magical or evocative, but they are intriguing... Worth picking up, though you needn't go to great lengths to track it down.

Batucadeiras De Rincon "Cap-Vert: Batuco De l'Ile De Santiago" (Inedit/MCM, 2004)



A very different kind of Cape Verdean music here... Instead of the languid, melodic mornas that made Cesaria Evora a star, this album highlights the starker batuco ("drumming") style practiced by the women of Rincon village on the island of Santiago. It's much like the sambas de roda (circle sambas) of Bahia, Brazil -- plain, informal, street-corner percussion with a circle of women singing a call-and-response chant with one of them leading the group. The batuco singers often make their songs up on the spot, commenting on daily comings and goings, feckless husbands, bad weather, etc. In fact, one of the songs on this disc is a ditty made up about the recording of the album, making reference in the lyrics to the folklorist who set the sessions up... This music is probably too raw for most casual world-music fans, but for the right listeners, I'm sure it is deeply fascinating.


<! GIF really 111x108 >

Bau "Top D'Coroa" (Lusafrica, 1994)


Bau "Jailza" (Lusafrica, 1995)



Bau "Inspiracao" (Lusafrica/Tinder, 2000)



Rufino Almeida (aka Bau) is Cesaria Evora's guitar player, the architect of many of the best-known melodic flourishes in the Cape Verdean canon. Here, on an all-instrumental album, he follows in the pattern set by singer Fantcha, hedging his bets by alternating stately, gorgeous, fado-based numbers with bouncier, Gipsy Kings-style upbeat tracks. As a result, the first half of this album is a little schitzophrenic -- just as you start to settle into the calm, reflective groove of the slower ballads, along comes a slightly jarring, perky pop tune. For the second half of the album, though, we're treated to a series of gorgeous, relaxing mornas -- pure, simple and sweet. Well worth checking out.


<! originally out 1998(?) >

Bau "Blimundo" (Lusafrica, 2001)


Bau "Cape Verdean Melancholy" (Evolver, 2003)






<! all-instrumental set >

Bau "Silencio" (Lusafrica, 2004)


Bau "Ilha Azul" (Lusafrica, 2006)


Francis Bebey - see artist discography
Mbilia Bel - see artist discography

Bembeya Jazz "10 Ans De Succes" (Syllart, 2000)



Bee-yoo-tee-ful West African guitar music, from one of the premiere bands of Guinea's glorious pop scene of the 1960s and '70s. Long, beautiful, fluid guitar lines will have you entranced from start to finish, with gentle vocals and rhythm... some of the most compelling, gorgeous music you'll ever hear! Highly recommended.
Bembeya Jazz "Hommage A Demba Camara" (Syllart/Cantos, 2000)


Bembeya Jazz "Bembeya" (World Village, 2003)



It's been nearly fifteen years since their last album, but Guinea's veteran supergroup, the newly-reformed Bembeya Jazz, prove themselves as capable and sweet-sounding an Afropop band as any out there today. This new set, featuring several veteran players and some new recruits, isn't as eerie or electrifying as their signature work from the 'Sixties and early '70s, but it's still pretty darn good. Recommended, particularly for fans of cascading, melodic guitars.


<! http://en.wikipedia.org/wiki/Bembeya_Jazz > <! Discography Bembeya Jazz "Bembaya Jazz" Bembeya Jazz "Bembaya" Bembeya Jazz "Defi And Continuite" B00004SAWC Bembeya Jazz "Jardin De Guinee" Bembeya Jazz "Bembeye Jazz Live - 10 Ans De Success" Bembeya Jazz "Memoire De Aboubacar Camara" Bembeya Jazz "Sabu" B00000IHVE Bembeya Jazz "Telegramme" Bembeya Jazz "Wa Kele" (Sonodisc) B00000IHVD Bembeya Jazz "Yekele Bembeya Jazz "Hommage A Demba Camara" Bembeya Jazz "Parade Africaine" (Syllart) B00005YQD7 Bembeya Jazz "Regard Sur Le Passe" B00000DDQ0 >

Bembeya Jazz "African Classics" (Cantos, 2006)


Bembeya Jazz "The Syliphone Years" (Syllart/Cantos, 2004)



A fab 2-CD set collecting their best early work...

Gaby Lita Bembo & Orchestre Stukas "Kita Mata ABC" (RetroAfric, 2005)



An interesting set of late '70s/early '80s recordings featuring Zairean vocalist Gaby Lita Bembo and the Orchestre Stukas... This album gathers several singles, some of which were recorded with lamentably lo-fi production, but all of which have stunning musicianship, particularly the guitar work of Samunga Tediangaye (who I believe is on at least some of these tracks). These 1974-83 recordings were wildly influential, and gve some impression of the legendary dynamism of the band, and of Bembo in particular. Worth checking out, although the sound quality may be disappointing.
Big Voice Jack "Colours & Moods" (Gallo, 1996)


Big Voice Jack "Zimanukwenzeka (Things Just Happen)" (Sheer Sound, 2003)


The South African kwela, or pennywhistle -- one of my favorite instruments -- taken into the modern era, but still with a lot of the old-fashioned sound of the 1950s when it was still quite popular. The band, Big Voice Jack, backs the elderly Louis Mhlanga, one of the last great kwela players, and while some of the modern sounds that are draped around him inch towards the mbaqanga pop style, mostly this retains the buoyant feel of the olden days. Nice record... worth checking out!
BLO "Chapters & Phases -- The Complete Albums: 1973-1975" (Rev-Ola, 1987)


A reissue of two albums by Nigerian funk band BLO, Chapter One, from 1973 and 1975's Phase II.


<! One of the hippest groups of the Nigerian scene of the 70s -- presented here in two classic albums, back to back on a single CD! Chapter One is a landmark set of African grooves -- very unusual in both conception and execution -- with a feel that's unlike anything we can think of! There's definitely a rock influence in the set, but the music isn't rock at all -- it's a very dark, almost dubby groove at points -- and a bit more straightforwardly funk at others -- almost a post-colonial style that clearly comes from a London influence, given to the group by a previous association with Ginger Baker. Rhythms are quite tight, and the bass is as strong as the drums -- mixed up nicely with riffing guitar, and moody vocals that color the whole thing nicely. Titles include "Preacherman", "Time To Face The Sun", "We Are Out Together", "Chant To Mother Earth", "Miss Sagitt", "Beware", and "We Gonna Have A Party". Phase II is a critical next step for the group -- music that's even deeper than before, but a bit funkier too! There's clearly some touches here of other African funk of the time -- especially in the way the guitar parts groove with the rhythms -- although those heavy Blo basslines from before are still nicely in place, as are some of the fuzzier production elements too. Titles include "Whole Lot Of Sh*t", "Atide", "Blo", "It's Gonna Be A Good Day", "Native Doctor", and "Don't Take Her Away From Me". >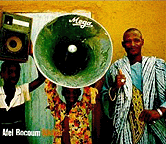 Afel Bocoum "Alkibar" (Nonesuch, 1999)



A young protege of Ali Farka Toure, Bocoum infuses the familiar Malian griot style with a dreamy, intricately-layered ambient production. A very strong release which avoids the pitfalls of the Parisian school of overproduced African pop, this disc has plenty of nuances to reward repeat listenings. Highly recommended, although (as with many Malian records) it may also be a little monochromatic when listened to from start to finish...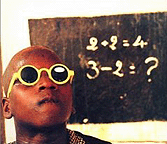 Afel Bocoum "Mali Music" (Honest John's, 2002)



Playing host to Damon Albarn during the visiting British rock star's West African sojourn, Bocoum booked some studio time and together they crafted this fine, subtle update of the classic Malian pop sound. Up-to-date rock and electronica influences are at the heart of this album, blending nicely with the multi-layered Malian soul. Toumani Diabate plays kora, and Albarn is in the mix as well... Nothing sounds forced or grafted on -- it's a skillful, organic meeting of minds... I think Albarn really "gets" African pop, and he and Bocoum were able to jam together without it sounding like anyone was slumming or just punching the clock. Pretty cool.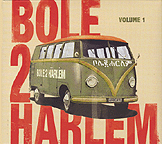 Bole 2 Harlem "Volume One" (Sounds Of The Mushroom, 2006)



Now, these people know how to party!! Modernized Ethiopian groove mixed with good, old-fashioned New York-style, hip-hoppish block-party funk... This is one of the hardest-driving, most dance-provoking, utterly satisfying crosscultural mash-ups I've heard in years, with a solid groove that sounds unlike anything I've heard before. It's original, energetic and exhiliarating, and doesn't let up from the first track to the last. Definitely worth checking out!
Bonga - see artist discography

Henri Bowane "Double Take - Tala Kaka" (RetroAfric, 1994)



A great record, tracing the roots of the hypnotic ju-ju style popularized by King Sunny Ade... In the 1950s, guitarist Henri Bowane was the bandleader of the Congo's Loningisa Studios, and guided the career of the great pop star Franco; in the '60s he worked with Ry-Co Jazz, and later with Sam Mangwana. This is the first release of Bowane's only solo album, recorded in 1976 and shelved for many years. It's groovy stuff, full of ringing guitars and a clear James Brown influence in the driving, back beat-heavy rhythm. Highly recommended!

Segun Bucknor "Poor Man No Get Brother -- Assembly & Revolution: 1969-1974" (Strut, 2002)


Early '70s Nigerian funk, with a heavy, heavy debt to James Brown's Bootsy-era jams. This disc collects music from two incarnations of Bucknor's band, the first being the Assembly, and the second, the more politically inclined Revolution. Like Fela Kuti, Bucknor saw music as a way to attract people to politics (and politics as a way to attract people to music), and many songs have an interesting socially conscious component. Overall, this collection sounds pretty static, with one song after another "staying on the one," in the James Brown style, but it's still a pretty cool document of a little-known chapter in African pop history.
Segun Bucknor "Who Say I Tire" (Vampisoul, 2010)



Buika "Nina De Fuego" (Warner Music Latina, 2008)



(Produced by Javier Limon)
Spanish singer Concha Buika has an interesting pedigree: her family were African immigrants but she grew up around Spanish gypsies, and has incorporated various modern and traditional styles in her music, a genre known as copla music in Spain. On this disc, she largely forgoes the soul and electronic touches of earlier albums, and hews closer to traditional flamenco and romantic boleros, with some pronounced jazz overtones as well. It's a grand, romantic approach that brings to mind other Afro-Latina artists such as Cesaria Evora, Omara Portuoundo, Virginia Rodrigues... You kind of have to be on that romantic, melodramatic wavelength for this to work, although there is a touch of Cuban-style salsa on a tune or two that may appeal to a wider pool of world music fans. This is her third album, and fans of the first two will appreciate the emotional intensity and stripped-down sound of this latest record.
---
---



African Music Index
World Music Index

---