! MP3 02/15/09, 01/07/10, 02/06/12 > <! update 02/15/09 > <! outside 00/00/00 > <! pix 00/00/00 > <! 02/15/09: migrate Etoile de Dakar info to N'Dour discography? http://www.answers.com/topic/echo-del-africa-national > <! icons 02/04/11 >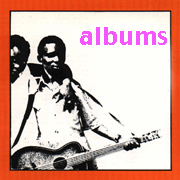 ---
Hi -- welcome to my African music review section. This page includes records by artists under the letter "E" More African music resources can be found at the main index page.
By the way, I'm hardly a world's expert on African music, and this list is kinda whatcha call a "work in progress," so please feel free to make suggestions and comments.
---
A | B | C | D | E | F | G | H | I | J | K | L | M | N | O | P | Q | R | S | T | U | V | W | X, Y, Z | Comps

---
MUSICAL STYLES: Afro-Beat | Music of Cape Verde | South African Jive 'n' Jazz | Main Africa Index
---
Nour Eddine "Morocco: Traditional Songs And Music" (Arc Music, 2010)



(Produced by Paulo Modungo & Redouane Fatty)
A sweet set of stripped-down Moroccan gnawa music, with earthy, straightforward percussion and steady, hypnotic rhythms. This is a very nice, very accessible set, free of any electronic instruments, giving it a very organic, rootsy feel. Highly recommended!

The Elite Swingsters With Dolly Rathebe "A Call For Peace" (Indigo)


One of the most striking vocalists of the classic era of South African jive, Dolly Rathebe has kept the torch alive with her new group, the Elite Swingsters. The band debuted in 1991, and has issued several top-notch releases since then. Not as electrifying as her early stuff, but still worth checking out.
The Elite Swingsters With Dolly Rathebe "I Love Soweto" (Sony Globe Trotter, 1998)


Alemayehu Eshete "1969-1974" (Buda Music-France, 2000)



When folks talk about Ethiopian pop in terms of "groove" or "world beat," the singer Alemayehu Eshete should be at the top of the list. Eshete's music derives straight lineage from American rock'n'roll, with hints of New Orleans R&B and outright teenybopper pop throughout; he's one of the most "Western" of the great Ethiopian pop stars. There's also more than a smidge of James Brown-styled funkiness here, filtered, naturally, through the peculiar stylings of the Abyssinian folk sounds. This CD is truly an amazing set, collecting about half the material Eshete released in the days of "Swinging Addis." It's unfortunate but understandable that several of his best songs are not included on this album -- they are instead heard on Volumes 2 and 8 of the ETHIOPIQUES series. There inclusion elsewhere is noteworthy because they are some of the best songs in the entire series, but unfortunate for Eshete's legacy since this current volume then lacks some of his hardest rocking, grooviest recordings. Nonetheless, what's on here is pretty incredible -- this disc will not disappoint! (Volume 9 of Buda Music's highly-regarded ETHIOPIQUES series.)
Alemayehu Eshete "1972-1974: More Vintage!" (Buda Music-France, 2007)



(Volume 22 of the ETHIOPIQUES series.)
Alemayehu Eshete "The Best Of Alemayehu Eshete" (AIT, 1998)


Alemayehu Eshete "Addis Ababa: New Beat Music From Ethiopia" (Shanachie, 1992)



Etoile De Dakar with Youssou N'Dour "Rough Guide To..." (Rough Guide, 2002)


A perfect overview of the band that brought Senegalese superstar Youssou N'Dour into the international spotlight. There's a wide variety of styles, ranging from more acoustic and traditional-sounding material, to expansive, hypnotic electric guitar tunes that are closer to the lushly produced, lavish pop that N'Dour makes nowadays. Anyone interested in African pop owes it to themselves to check this disc out; it may open up a whole new world of sound for you!
Etoile De Dakar "Volume 1: Absa Gueye" (Stern's, 1994)



This fine four-volume series charts the growth of N'Dour's first famous Senegalese pop band; a perfect set for the completist or true Etoile fanatic.
Etoile De Dakar "Volume 2: Thiapathioly" (Stern's, 1994)


Etoile De Dakar "Volume 3: Lay Suma Lay" (Stern's, 1997)


Etoile De Dakar "Volume 4: Khaley Etoile" (Stern's, 1998)


Etoile De Dakar "Xalis" (Popular African Music, 1997)


A straight reissue of the first Etoile De Dakar album, originally recorded in 1978.
Etoile De Dakar "Sina De Ciganos" (Celluloid, 1997)





<! http://en.wikipedia.org/wiki/Star_Band -- N'Dour in this as well? Gave birth to both Etoile De Dakar and Orq. Baobab (according to Wikipedia) (No entry for Etoile De Dakar as of 02/09) >

Etoile De Dakar "Once Upon A Time In Senegal -- The Birth Of Mbalax: 1979-1981" (Stern's Africa, 2010)



A groovy 2-CD set gathering some of the finest early work of Senegalese Youssou N'Dour and his groundbreaking band, Etoiles De Dakar. This is the lively, innovative, vibrantly vital music that launched N'Dour's career, but also stands on its own, many decades later. (Indeed, I prefer this high-energy stuff to much of N'Dour's rather overproduced solo work... you can definitely hear why folks were so excited when he cam on the scene.) Highly recommended!

Etran Finatawa "Desert Crossroads" (Riverboat, 2008)



A melding of two Saharan tribal styles, of the Touareg and the lesser-known Wodaabe -- weird, curlicued blues-like guitar riffs alongside sparse percussion and mystifying, start-and-stop rhythms, and plaintive, keening vocals. Fans of the band Tinariwen will dig these guys as well... They're a little more laid back, but no less deep.
Cesaria Evora - see artist profile
---
---



African Music Index
World Music Index




---