! MP3 02/27/09, 01/11/10, 02/07/12 > <! update 02/27/09 > <! outside 00/00/00 > <! pix 01/11/10 - AFT "radio Mali" could be bigger > <! icons 02/04/11 >
---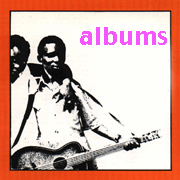 Hi -- welcome to my African music review section. This page includes records by artists under the letter "T" More African music resources can be found at the main index page.
By the way, I'm hardly a world's expert on African music, and this list is kinda whatcha call a "work in progress," so please feel free to make suggestions and comments.
---
A | B | C | D | E | F | G | H | I | J | K | L | M | N | O | P | Q | R | S | T | U | V | W | X, Y, Z | Comps

---
MUSICAL STYLES: Afro-Beat | Music of Cape Verde | South African Jive 'n' Jazz | Main Africa Index
---

Nii Tagoe "African Roots" (Arc, 2006)



Cool...! Ghanaian drummer Emmanuel Nii Okai Tagoe is a rising star in the world-beat scene, principally known for his association with the world-fusion band, Baka Beyond, as well as his work with Femi Kuti, Osibisa and African Headcharge. Coming to the fore as a solo artist, he displays impressive, imaginative breadth and will compel your rapt attention from one song to the next. There's a nice mix of driving Afrobeat rhythm, West African electric guitar riffs, and delicate indigenous percussion pieces, each track anchored by Tagoe's expressive drumming and gentle vocals. Nice record -- a lot of different tones and musical modes, never static and consistently engaging.
Andre Marie Tala "Bend Skin Beats" (Retroafric, 2009)


Tarika "Bibiango" (Green Linnet/Xenophile, 1994)



Tarika "Son Egal" (Green Linnet/Xenophile, 1997)



Possibly the best album by this renowned Madagascar ensemble... Their sound is built around the various types of harps and stringed instruments used in Malagasy music; also included are Senegalese and mainland instruments like the kora-- the reason for this is that the album's content is about the rocky colonial-era relationship between Madagascar and Senegal. Apparently 19th-Century colonial authorities used Senegalese troops to supress unrest in Madagascar, playing one ethnic group off another, and singer-songwriter Hanitrarivo Rasoanaivo explores the fallout of that bitter history in her lyrics. Mostly what will be noticed by Northern hemisphere listeners will be the pretty music... nice stuff!
Tarika "D" (Green Linnet/Xenophile, 1999)



Tarika "Soul Makassar" (Triloka, 2001)


One of Madagascar's most successful bands, Tarika established themselves early on with a series of tightly-crafted, densely layered pop albums, defined largely by the ever-present valiha, a type of hand-held harp that sounds somewhat similar to the kora used in Mali. Tarika's sound was always so distinctive and so arresting that it there has always been an ever-present danger that it would be lured into some ill-advised, goopy, New Age-y "world beat" remix project... By and large, they have avoided that trap, although this record edges a little bit closer, with its eclectic multicultural mix and folkie undertones... Indonesian music is the main new element, prompted by a trip to Jakarta to explore the Asian cultural roots of the Malagasy; other influences include African talking drums and a spot of Phil Spector (in a demure version of "Be My Baby")... Still, the blend is pretty restained and worth checking out, particularly if you liked their older albums.
Tarika "10: Beasts, Ghosts And Dancing With History" (Triloka, 2004)





<! tenth anniversary compilation CD >

Tarika Sammy "Fanafody" (Xenophile, 1992)

Tarika Sammy "Balance" (Xenophile, 1994)

Tarika Sammy "Beneath Southern Skies" (Shanachie, 1996)

Sara Tavares "Mi Ma Bo" (BMG, 2003)



Sara Tavares "Balance" (Times Square, 2005)



A pretty-sounding and melodically oriented album, introducing Sara Tavares, one of the new generation of artists emerging from the Cape Verde Islands, off the Portuguese coast. Tavares, who grew up in Lisbon, plays with numerous African artists, but the overall feel of the disc is closest to Portuguese fados and Cape Verdean mornas, -- primarily acoustic and ballad-oriented. Tavares -- who also plays several instruments and backs herself alone on a few tunes -- breaks free from the normally mournful sounds of these two styles, playing with an exuberance and freedom that the nostalgic, downcast mornas often lack. I didn't find myself very moved or transfixed by these songs, but they do sound nice and the more I listened, the sweeter it became. Definitely worth checking out -- folks looking for something easy and elegant will enjoy this disc a lot.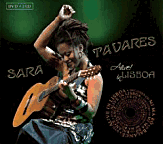 Sara Tavares "Alive In Lisboa!" (Times Square, 2008)


Sara Tavares "Xinti" (Four Quarters, 2009)



(Produced by Sara Tavares & Ani Fonseca)
Very mellow, very pretty, very gentle acoustic world-pop from this Lisbon-based Portuguese singer. This is a little too gooey and sweet for my tastes, a little too airy, but I imagine many world music fans, folks looking for mellow, gentle, pretty music, would be delighted to hear it. Tavares herself is said to have characterized her music as a kind of lullaby, and I think that's a pretty apt description... If that's what you're looking for, you won't be disappointed.

Tcheka "Lonji" (Times Square/Lusafrica, 2008)



(Produced by Lenine)
Lush, pretty-sounding acoustic music from the Cape Verde islands, off the coast of West Africa, featuring the vocals and guitar work of Manual Lopes Andrade, otherwise known as Tcheka... This is super-mellow stuff, with some of the same amorphous, meandering, jazzy spaciness as Brazilian pop star Milton Nascimento. This album sounds unlike much Cape Verdean music, forgoing the overt romanticism of their national music, the ballad-like morna, for a more experimental, meditative sound. Yet the eclecticism of Cape Verde is there as well, dipping into African and European wellsprings, often with beguiling results. For example, the restless accordion work of Toninho Ferragutti, on "Tuti Santiagu," begins as an echo of French musette, and shifts abruptly into a wild, improvisational take on Argentine tango... At first blush, this disc may seem too gooey for some listeners -- Brazilian producer Lenine leaves his own rock'n'roll inclinations behind and limits himself to subtle, electronica-ish textural touches -- but for folks who enjoy the super-mellow end of the spectrum, this album offers unexpected musical twists while remaining consistently soft and unobtrusive, as well as lyrical and emotive. Fans of Milton Nascimento and fellow Brazilian Djavan may find this particularly alluring.
Les Tetes Brulees "Hot Heads" (Shanachie, 1991)

Les Tetes Brulees "Bikutsi Rock" (Shanachie, 1992)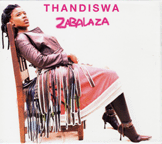 Thandiswa "Zabalaza" (Gallo/Escondida, 2006)



Modern South Africa pop and neo-soul; sort of like a Xhosa version of Macy Gray. This is Thandiswa's debut album, it's bilingual, with many lyrics sung in English... Musically speaking, it's really not my cup of tea, so I may not be the best person to comment on this disc. I can see lots of folks getting into it, though it's a bit mainstream and slick for me.
Thandiswa "Ibokwe" (Gallo, 2009)






<! dist. by Rhino? >

Sam Fan Thomas "The Best Of..." (TJR/Sonodisc, 1995)


Pleasant, light African pop from the 1980s, produced in France with that light pop feel. The opening tracks (his big hits) are the most compelling, and are considered classics of the heavily-rhythmic makassi style. "African Typic Collection," "Sabina" and "Neng Makassi" are all irresistible and ebullient though a bit mindless -- the music is repetitive but not monotonous or garishly overproduced; basically the sparse, uptempo music serves as a springboard for Thomas' vocals, and his cheerful personality comes through clear as a bell. The rest of the record closely follows the same template, and while the early singles are fun, it does start to wear thing after six or seven tracks.


<! from Cameroon >

Sam Fan Thomas "Makassi" (1984)


Sam Fan Thomas "Makassi Again" (Celluloid, 1988)


Sam Fan Thomas "Si Tcha" (1991)

Sam Fan Thomas "No Satisfaction" (1999)


Thu-Zahina "Coup De Chapeu" (RetroAfric, 1997)



A beautiful set of dreamy, drifty early '70s Congolese pop, dominated by a gently hypnotic electric guitar. Thu-Zahina were one of the pivotal "youth" bands which brought American funk and acid rock influences into the already vibrant Kinshasha pop scene. With the expansive guitar work of Roxy Tshampaka, Thu-Zahina broke out of the tightly-arranged musical mould set by the older, established rumba bands led by Franco and Tabu Ley Rochereau. Later, bands such as Zaiko Langa Langa picked up this rock-influenced "new wave" and tightened the sound, re-establishing the dominance of intricate arrangements and precise musicianship in Congolese music. Here, though, the sound is new and still quite fluid, perhaps more expressive, if you're inclined to think of it that way. (In fact, after Thu-Zahina helped Zaiko Langa Langa get its start, the younger band eclipsed them, and stole their famed guitar player...) Anyway, this is a great record. It's pretty stuff, and it's a shame more of this band's classic catalog isn't available for us to check out. Highly recommended.

Tinariwen "The Radio Tsidas Sessions" (Wayward/World Village, 2001)



Slow, hypnotic West African music, very much in keeping with the griot-pop crossovers of Ali Farka Toure and Toumane Diabate. These guys have a colorful back story: apparently the bandmembers are all originally part of the Tuareg guerilla movement of their native Mali. They met in a military training camp, and somehow made the transition into music, winning acclaim with critics in Europe and, presumably, getting some good press for their political cause as well. I'm not so enamoured of the shoot-'em-up aspect of their history, but their record is alright. As with much of the music in this style, I found this disc to be a bit on the monotonous side -- it's very pretty, but not very dynamic or varied. Still, if you're a fan of Ali Farka Toure, then you should enjoy this album quite a bit -- it doesn't cut any new roads, but it's got a modern sound and is very mellow and nice to chill out to.

Tinariwen "Amassakoul" (World Village, 2004)



Another fine offering by one of Sub-Saharan Africa's best new bands, the Touareg ensemble known as Tinariwen... Their slow, hypnotic groove style has mellowed even more, inviting comparison, perhaps, to American "jam bands" such as the Grateful Dead, et al. Granted, for many folks in the rock world, a statement like that might be the kiss of death... But for a band as deeply drenched in Arabic and Africa musical styles, the additional groove-a-delic droning becomes a strong selling point. Tinariwen picks up the meandering, bluesy style pioneered by Malian superstar Ali Farka Toure, and adds a much more nuanced, textured coloring, creating a new, modern African pop style that can become quite addictive, once you get in the right frame of mind. If you liked their last album, Radio Tsidas Sessions, you really ought to love this one!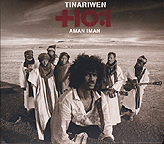 Tinariwen "Aman Iman" (World Village, 2007)



Mali's Tuareg superstars are back with more of the droning, hypnotic rhythms and seductive electric guitars that have made them the toast of the world music scene... This album is quieter than their last, though, as the band explores their tribal spirituality and places more emphasis on their lyrics and the overall vibe of the album, rather than the driving, intense rock-drone fusion they explored in the last record. It's a thoroughly solid album, though comparatively static in melodic terms... If you go for trance-y rhythms, though, this disc is hard to beat... They don't let up for a second!
Tinariwen "Live In London" (DVD) (World Village, 2009)

Tondo "Tanzanian Classics" (Dakar Sound, 2006)

Ali Farka Toure - see artist profile
Vieux Farka Toure "Vieux Farka Toure" (World Village, 2007)



A fine album by the son of Malian superstar, the late Ali Farka Toure... Vieux has a lighter touch than his fabled father, and a much readier acceptance of the wide melodic palatte of modern African pop... This is a fun, pleasant album, with strong, beautiful contributions from kora master Toumani Diabate... If you're looking for something sweet to listen to, this album will certainly fill the bill... Admirably, Vieux is not completely in thrall to his father's style, although there is an echo of his hypnotic, bluesy rhythms... Ali Farka Toure also appears on this album, in recordings he made with his son before he passed away in 2006; for some fans, these will be the highlight of this album -- I find the emergence of a new African star to be the real news here. Definitely worth checking out.
Vieux Farka Toure "Remixed: UFOs Over Bamako" (Modiba, 2007)


T.P. Orchestre Poly-Rythmo De Cotonou "Reminiscing In Tempo" (Popular African Music, 2003)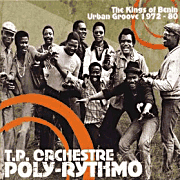 T.P. Orchestre Poly-Rythmo De Cotonou "The Kings of Benin Urban Groove: 1972-80" (Soundway, 2005)






<! "Mali Kan: The Music Of Mali" Bazou Sissoko Sitan Traore Madou Traore B000K3VFBK >

Boubacar Traore "Mariama" (Stern's Africa, 1990)


Boubacar Traore "Kar Kar" (Stern's Africa, 1992)


Boubacar Traore "Les Enfants De Pierrette" (1995)

Boubacar Traore "Sa Golo" (Indigo-France, 1996)


Boubacar Traore "Macire" (Indigo-France, 2000)


Boubacar Traore "Je Chanterai Pour Toi" (Marabi, 2003)






<! DVD documentary >
Boubacar Traore "Kongo Magni" (World Village, 2005)



A moody, deceptively simple-sounding, vaguely hypnotic album with Malian acoustic guitarist and songwriter Boubacar Traore playing slow, repetitive lines that gradually bend and evolve as each song unfolds... Like his famed contemporary, Ali Farka Toure, Traore works a strong blues thread into his music, recalling the droning, chunky riffs of John Lee Hooker and Muddy Waters... There's a sense of sorrow to this music, and indeed many of the songs reflect on life in the impoverished, rural Malian nation, and tend to have explicit social messages (at least that's what it seems, glancing at the partial translations inside... ) Although this sadness is palpable, so is Traore's tenacious, weary embrace of life and humanity, with all its flaws and foibles... This album may take a while to get into, but it definitely casts a spell if you give it half a chance. Worth checking out.
Boubacar Traore "The Best Of Boubacar Traore: The Bluesman From Mali" (Wrasse, 2003)

Boubacar Traore "African Classics" (Cantos, 2007)


Kassoum Traore & Ashitey Nsotse "Bush Taxi From Bamako To Accra" (Argile, 2002)


Lobi Traore "Bambara Blues" (Indigo-France, 1992)

Lobi Traore "Bamako" (Melodie-France, 1994)

Lobi Traore "Segou" (Indigo-France, 1996)

Lobi Traore "Duga" (Cobalt-France, 1999)


Lobi Traore "Mali Blue" (World Village, 2004)


A best-of collection, gathering songs from Traore's French import albums listed above... Many songs have a bigger, trancier (and more elaborately produced) sound than Traore's friend, Ali Farka Toure, closer in style to bands such as Tinariwen, who doubtless were influenced by recordings such as this. Cool stuff!
Lobi Traore "The Lobi Traore Group" (Astralwerks, 2005)


Lobi Traore "Barra Coura" (2007)


Lobi Traore & Joep Pelt "I Yougoba" (Excelsior, 2008)


Lobi Traore "Bwati Kono" (Kanaga System Krush, 2010)


Lobi Traore "Rainy Season Blues" (Glitterhouse, 2010)


Moussa Traore "Mali Foli: Traditional Rhythms And Songs Of Mali" (Talking Drum Records, 1999)


Rokia Traore "Mouneissa" (Indigo-France, 1997)


Rokia Traore "Wanita" (Indigo-France, 2000)






<! Traore wrote and arranged the entire album >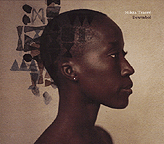 Rokia Traore "Bowmboi" (Nonesuch/Tama, 2004)



Vocal music from Mali, with a deft, streamlined melodic accompaniment. While Traore's previous record, Wanita, had somewhat of a modernist gloss, this disc seems more streamlined, accenting her voice and keeping the songs simple and more traditional sounding. It's a pretty low-key set, but consistently engaging. Fans of African pop should enjoy this smooth, assured album. It's not dazzling or incandescent, but it is pretty nice.
Rokia Traore "Tchamantche" (Nonesuch, 2008)


---
---



African Music Index
World Music Index


---