! MP3 02/15/09, 01/08/10, 02/06/12 > <! update 00/00/00 > <! outside 00/00/00 > <! pix 00/00/00 > <! icons 00/00/00 >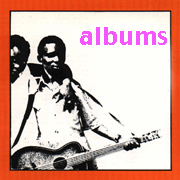 ---
Hi -- welcome to my African music review section. This page includes records by artists under the letter "H". More African music resources can be found at the main index page.
By the way, I'm hardly a world's expert on African music, and this list is kinda whatcha call a "work in progress," so please feel free to make suggestions and comments.
---
A | B | C | D | E | F | G | H | I | J | K | L | M | N | O | P | Q | R | S | T | U | V | W | X, Y, Z | Comps

---
MUSICAL STYLES: Afro-Beat | Music of Cape Verde | South African Jive 'n' Jazz | Main Africa Index
---

Hanitra "Omeko Anao: The New Voice Of Madagascar" (Arc Music, 2000)


A nice album from one of Madagascar's best-known popular singers... She works in a variety of styles here, some of it quite lovely, though a most of the songs (like the title track) have lamentably cloying arrangements. The others stuff is great, though, and tracks like "Raopilany" are quite striking. A mixed bag, but if you like the whole Malagasy sound, this disc is worth checking out.

Horoya Band "Paya-Paya" (Dakar Sound, 1997)


A swell collection of rare Guinean pop from the old Syliphone label. Metoure Traore's guitar-and-horn heavy Horoya Band was formed in 1964, and eventually dissolved in the early '80s, as public tastes changed in the face of more modernized international pop. This is lush, lovely stuff taken off old albums and 45rpm singles that came out mostly in the early '70s -- the guitar work that underpins these tracks is uniformly gorgeous, though at times the brass arrangements can be a bit shrill and off-in-another-worldish. Cool stuff, though, with odd hints of Afro-Beat, surf, and Arabic influences. If you enjoyed the excellent GUINEA '70s compilations, then this disc is a nice chance to check out one of the better-known Guinean bands at greater length.
---
---



African Music Index
World Music Index


---