! MP3 02/27/09, 01/11/10, 02/04/11, 02/07/12 > <! update 00/00/00 > <! outside 00/00/00 > <! pix 01/11/10, 02/06/12 - need larger Woma pic > <! icons 02/04/11 >

<! LES WANYIKA - Kenyan guitar band >
---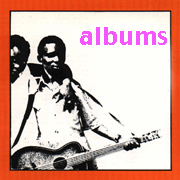 Hi -- welcome to my African music review section. This page includes records by artists under the letter "W" More African music resources can be found at the main index page.
By the way, I'm hardly a world's expert on African music, and this list is kinda whatcha call a "work in progress," so please feel free to make suggestions and comments.
---
A | B | C | D | E | F | G | H | I | J | K | L | M | N | O | P | Q | R | S | T | U | V | W | X, Y, Z | Comps

---
MUSICAL STYLES: Afro-Beat | Music of Cape Verde | South African Jive 'n' Jazz | Main Africa Index
---

Guy Warren "The Divine Drummer" (RetroAfric, 2002)



These kooky, free-jazz/world beat percussive explorations probably are not for everyone, but they are kinda weird and unique. Ghanaian drummer Guy Warren (aka Kofi Ghanaba) is one of the more elusive figures in the jazz world, as well as the African pop scene. He did a lot of work with a lot of great African bands in the '40s and '50s, founding the Tempos band that later made E.T. Mensah famous, and later got into the hard bop and free jazz scenes of the 1960s, gigging with some of the greats of the style. Then he kinda wigged out and got super-experimental, as these 1969-70 sessions amply demonstrate. It's weird stuff -- Max Roach meets the rainforest -- recorded with minimal instrumentation and a trance-y overall vibe, though also fairly artsy and irritating, in a way that might be familiar to folks who have heard Alice Coltrane or Pharoah Sanders.



<! really 131x130 > <! 02/09: several LPs listed on Amazon, only this one CD >

Wazimbo & The Orchestra Marrabenta Star De Mocambique "Nwahulwana" (Piranha, 2001)



A pretty slick update of the marrabenta style from Mozambique... The glossy production, with smooth horn charts and liberally slathered, heavily processed electric guitar, left me a bit put off. The passion of the musicians seems pretty remote to me, too similar to all that slick stuff from South Africa.

Wenge Musica "Bouger Bouger" (Africassette, 1988)


A mellow set of guitar-centered African pop from Zaire's Wenge Musica. A little too slick for my tastes - not as glossy or bombastic as similar '80s releases out of Paris, but sort of that same general feel. Okay, but it didn't really grab me.


<! BOUGER BOUGER This is the first release on the Africassette label. Originally issued in Africa in '88, this is the first international release of the #1 soukous band's seminal recording. It topped the charts in Zaire and for a couple of months in '94 it was at the top of the charts in Europe. This is a great CD! > <! other Wenge Musica CDs also listed > <! West African Highlife Band >

West African Instrumental Quintet "West African Instrumental Quintet: 1929" (Heritage, 1992)


Banjo-led tunes with instrumentation that is disarmingly similar to American old-timey music, though very different stylistically. Not much is known about these musicians -- not even which West African tribes they may have came from. The recordings were made in England, and released in 1929-1930 as 78s on the Zonophone label. Although it all begins to sound the same after a while, there are some interesting aural effects on tracks #18-20, where the banjo and guitars are completely out of tune with each other, yet the song goes on, creating its own, off-kilter musical logic. The effect is disconcerting -- even a bit creepy, in a music-box/calliope kind of way.


<! 130 x 130 >

Bernard Woma "Live At The Pito Bar" (Avant, 1997)


"Difficult music" jazz wunderkind John Zorn oversaw the creation of this album of Ghanaian drumming. Balafon player Bernard Woma (a member of the Dagara tribe) plays in a style that is uplifting and melodic, and and quite powerful... Highly recommended, particularly for percussion and drumming fans.


<! 109 x 108 >

Bernard Woma "Zie Mwea: Natural Conditions" (Mandara Music, 2001)

Bernard Woma "In Concert" (Jumbie, 2003)


---
African Artists... Letters "X", "Y" and "Z"
---



African Music Index
World Music Index


---