! MP3 02/15/09, 01/07/10, 02/09/11, 02/06/12 > <! update 02/15/09 > <! outside 00/00/00 > <! pix 00/00/00 > <! 02/09: Manu Dibango needs his own page, research. Also; other Diabate's? > <! icons 02/04/11 >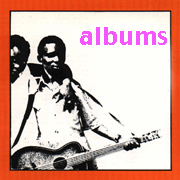 ---
Hi -- welcome to my African music review section. This page includes records by artists under the letter "D". More African music resources can be found at the main index page.
By the way, I'm hardly a world's expert on African music, and this list is kinda whatcha call a "work in progress," so please feel free to make suggestions and comments.
---
A | B | C | D | E | F | G | H | I | J | K | L | M | N | O | P | Q | R | S | T | U | V | W | X, Y, Z | Comps

---
MUSICAL STYLES: Afro-Beat | Music of Cape Verde | South African Jive 'n' Jazz | Main Africa Index
---

I. K. Dairo "Juju Master I. K. Dairo, MBE" (Original Music, 1990)


This fellow was one of the architects of the West African Juju style, which was later championed by folks like Ebenezer Obey and King Sunny Ade... but here is where it started, with the vigorous, exhuberant early '60s singles of one of Nigeria's great modern musicians. Notable innovations: the use of the accordion as a lead instrument, and the rough beginnings of the lushly melodic juju guitar style. Besides, when Original Music label founder John Storm Roberts says in the liner notes that Dairo's song "Omo Lanke" (track 22) is the song that turned him on to African pop, well, let me tell you, I'd sit up and take notice. A great collection which doesn't skimp on either song quality or quantity. Out of print, but well worth looking for.
I. K. Dairo & His Blue Spots "I Remember" (Music Of The World, 1991)





<! I.K. Dairo is acknowledged as the father of the modern juju music sound, but Dairo was not one to rest on his laurels. I Remember is a testament to a musician in top form after decades on the scene. "Mo Ti Yege" and "F'eso J'aiye" are the supple extended jams one expects of a topnotch juju group, and Dairo and the Blue Spots don't disappoint on the shorter songs either. They blend percolating percussion, chatty talking drums, gently floating guitar lines, and praise-singing vocal harmonies to create expansive sonic spaces. The song "I Remember" is Dairo's tribute, sung in English, to Americans who have inspired him over the years, including John Kennedy, Booker Washington, and Dr. Martin Luther King. Several of the songs on this release feature Dairo's tasteful accordion work, which adds a delightful texture to this easygoing, subtle music. >
I. K. Dairo & His Blue Spots "Ashiko" (Green Linnet/Xenophile, 1994)



I. K. Dairo & His Blue Spots "Definitive Dairo" (Green Linnet/Xenophile, 1996)


While not as bouncy or as innovative as his earlier, seminal 1960s work, it's hard to find fault with this collection of groovy '70s tracks. The sound is a little slicker, but solid, and the songs are super-mellow and gorgeously melodic. Well worth tracking down... Recommended!


<! Paul I. K. Dairo -- his son? "Project I" B000R01H8M "Project II" B000R01JC6 (MP3 albums) >

Dama & D'Gary "The Long Way Home" (Shanachie, 1994)



A dreamily listenable album, highlighting the wonderful melodic interplay of these two Madagascarian acoustic musicians. According to the liner notes, at the time this was made, these two guitarists had not actually played with each other that much... which seems incredible since their vocals and guitar mesh together so fluidly and so beautifully. A disc that you can put on and listen to over and over, especially on a quiet day at home. The opening tracks are the best, a few all-acoustic tracks that are some of the prettiest songs I've ever heard; later on in the album, producer Henry Kaiser joins in and electrifies things a little, along with fellow Americans Michael Doucet (on fiddle) and slide guitarist Sonny Landreth, who adds some very Ry Cooder-ish riffs. Great record.


<! Fanta Damba -- Malian singer/jelimuso of the 1970s; toured Europe in 1975 >

Dark City Sisters/Flying Jazz Queens "Dark City Sisters And Flying Jazz Queens" (Virgin-Earthworks, 1993)


This isn't really the kind of South African "jive" I'm into, but it is the bridge between the classic style and the more widely known township styles of the Mahotella Queens and other groups who came to our outside attention in the 1980s. I prefer the older style, but if you like more modern South African pop, this is a really nice disc, and is surprisingly modern, considering that these recordings date back to the early 1960s. A young Malathini plays on several of the tracks. (Note: this CD is frequently mistaken for a compilation, in fact it is material by two different bands, mainly by the Dark City Sisters, which was the more famous of the two groups.)

Ignace De Souza "The Great Unknowns/Les Grands Inconnus" (Original Music, 1994)


A fascinating retrospective of one of West Africa's most influential bandleaders, Benin-born Ignace De Souza, who based himself in Ghana for most of the 1960s, where he built up a powerhouse band known as the Black Santiagos. This disc includes several rare recordings from earlier bands such as the Shambros Band and the Melody Aces, and over a dozen vintage tracks by the Black Santiagos. De Souza is credited as a founding influence on the popular horn-based "afro beat" style that swept West Africa (and Nigeria in particular) in the 1970s. In 1968-69, he recorded some of the earliest afro-beat singles, at roughly the same time that Fela Ransome Kuti was developing a similar style in Nigeria. Included here is a fine, funky example, "Ole," which still had a slinky, bluesy feel, not quite the aggressive, rhythm-heavy sound that would come to dominate the genre. De Souza excelled at other styles as well, particularly Congolese-style highlife, which he is credited with popularizing in Ghana. There are also a couple of goofy rock-flavored "twist" tunes, showing some of the variety that dance bands were expected to play at the time. Interesting record, definitely worth checking out.

D'Gary "Malagasy Guitar: Music From Madagascar" (Shanachie, 1992)



Lovely, if somewhat meandering, acoustic guitar music from Madagascar. I prefer D'Gary's later collaboration with his fellow countryman Dama (see above), but kudos to producer Henry Kaiser for finding them both, and getting such sweet, delicate music on record.
D'Gary & Jihe "Horombe" (Indigo-France, 1995)

D'Gary "Mbo Loza" (Indigo-France, 1997)


D'Gary "Akata Meso" (Indigo-France, 2002)


Kasse Mady Diabate "Kassi Kasse" (Narada World, 2003)






<! pretty! > <! In his native Mali, Kasse Mady is universally esteemed as one of the greatest jelis (hereditary musician-historians) and a living treasure of the Mande people. His recordings with National Badema, a brace of solo albums (Fode and Kela Tradition,) and star turns with Ketama (Songhai and Taj Mahal (Kulanjan) all did well by his vast, sinuous baritone-to-tenor, but this scrumptious acoustic set is a revelation. It was recorded studio-live in his home village, with his brother and other longtime collaborators sitting in. The 14 tunes are a lexicon of styles the region is famous for, but a couple of playful, Latin-tinged confections also turn up. Kasse Mady's vocals are heard at their robust, sensitive best, sparring with rippling plucked strings, exuberant wooden flutes, mixed choirs, and battalions of handclaps and earth-shaking, woodsy percussion. The session is further graced by the ardent, unassuming bass of Buena Vista Social Club's Orlando "Cachaito" Lopez. --Christina Roden >

Nainy Diabate "Nafa" (Stern's Africa, 1996)






<! Nainy Diabate live album >

Prince Diabate & Amara Sanoh "Lamaranaa: Guinee Chant Et Kora" (Buda Musique, 2001)

Prince Diabate "New Life" (Sunrise, 2001)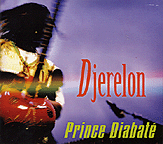 Prince Diabate "Djerelon" (Kora Company, 2006)



Beautiful, modernized and multilayered African Mandingo griot pop... This album made me sit up and listen not just because it's pretty-sounding, but also because Diabate has created some musical sounds that I haven't heard before... and that's pretty darn cool. The microtonal riffs that run counterpoint to the album's elegant kora work are quite striking, particularly on the eerie opening track, which is an album highlight. The entire disc is quite nice, actually -- if you enjoy gorgeous, melody-driven African pop, you'll want to check this album out!

Sekouba "Bambino" Diabate "Le Destin" (Popular African Music, 1992)


A lovely album of lush, layered West African pop, with interwoven kora, finger piano, percussion and guitars... Born in Guinea, Diabate was a featured singer in the band Bembaya Jazz, performing with them until the group dissolved in the late 1980s, amid political strife that led to a restrictive military government, and which helped stifle the booming Guinean pop scene. Diabate's vocals are urgent and evocative, with shrill counterpoint by a female chorus, and slinky, subtle melodies. The songs are all quite varied, and all quite nice. Recommended!
Sekouba "Bambino" Diabate "Kassa" (Stern's Africa, 1996)



Sekouba "Bambino" Diabate "Sininkan" (Blue Jackel, 2002)



Ornate, expansively arranged West African music, very much in keeping with the world-pop crossovers of Youssou N'Dour, Habib Koite, Toumane Diabate and others. Bambino is one of the younger Guinean griots, son of singer Marlama Samoura, a popular vocalist during the late 1960s. Bambino's approach is pretty adventurous and varied; on with a hip-hop flavored tune, "Promesse," a duet with Parisian-based Senegalese rapper Diziz La Peste. Kinda slick, but nice!
Sekouba "Bambino" Diabate "15th Anniversaire" (Syllart, 2004)



(Produced by Guy Bilong)
An okay album which finds Bambino still in fine voice, but occasionally surrounded by perfunctory, overly "poppy" modern arrangements. Most of the songs on here are fine, and hit a nice groove, although there were a couple that I didn't care for very much. Not bad, but also a little on the prefab side. The nice stuff is really nice, though.
Sekouba "Bambino" Diabate "Ambiance Ballon" (Syllart, 2004)


Toumani Diabate "Kaira" (Rykodisc, 1988)


Toumani Diabate & Ketama "Songhai" (Hannibal, 1991)






<! also with Danny Thompson >

Toumani Diabate & Ketama "Songhai 2" (Hannibal, 1994)






<! also with Danny Thompson and Jose Soto >

Toumani Diabate "Djelika" (Rykodisc/Hannibal, 1995)



Gentle instrumental music from Mali, with Toumani Diabate playing the kora, Keletigui Diabate on balafon and Basekou Kouyate on the lute-like ngoni. On my first pass through this album, I thought it sounded a bit stiff and overly technical, a showcase for virtuoso performances -- a bit too precise, though not entirely sterile. I put it on later, though, and found that when I didn't listen as closely, it worked much better, and the more fluid, improvisational side of the music came through, especially in the album's second half. Worth checking out, although there are more magical albums out there.
Toumani Diabate & Ballake Sissoko "New Ancient Strings" (Rykodisc, 1999)


Toumani Diabate & Taj Mahal "Kulanjan" (Hannibal, 1999)


Toumani Diabate "Jarabi: The Best Of Toumani Diabate" (Hannibal, 2001)

Toumani Diabate & Ali Farka Toure "In The Heart Of The Moon" (Nonesuch, 2005)



A surpassingly beautiful set of instrumentals featuring Diabate on kora, and Ali Farka Toure providing remarkably restrained accompaniment. His bluesy tendencies are mostly on hold here, as the duo explores quiet, meditative byways, with gentle, insistent melodies and fabulous musicianship.
Toumani Diabate "Boulevard De L'Independance" (Nonesuch, 2006)



Toumani Diabate "The Mande Variations" (World Circuit/Nonesuch, 2008)



A master musician from West Africa, Toumani Diabate has played the multi-stringed, lute-like harp known as a kora in a wide variety of circumstances and styles. He has played both traditional music and experimental pop crossovers, with expansive arrangements and simple, stripped-down sets. This elegant album of solo kora pieces is one of Diabate's purest and most personal recordings. A real jaw-dropper from a technical standpoint, "The Mande Variations" shows an amazing stylistic and tonal breadth - some pieces are quiet, peaceful mediations, others are driving and intense, a whirlwind flurry of notes and emotional power. It is certainly one of the finest African albums of recent years, utterly beautiful and quite moving from start to finish. Highly recommended!

Manu Dibango "Anthology" (Eagle, 2000)



An excellent 3-CD collection, largely comprised of Cameroonian keyboardist Manu Dibango's later work. It only dips lightly into his early recordings, but most of the material is quite funky and soulful... A few tunes that get a little jittery or goopy, but on the whole, this is a first-rate collection of some killer modern African pop. The first disc, in particular, reveals a wickedly creative mastery of various pop styles, notably American funk-soul and pop-rock, along with a willingness to tweak the music sonically. Some of these early works feature a densely textured production style that uses the texture of the sound to subvert the styles in question, applying an ambient music approach to otherwise "mainstream" genres. The other two discs show Dibango getting more conservative and predictable, delving into African reggae and standard-issue Afro-pop. Nonetheless, this is a great introduction to his work. Definitely worth checking out.


<! Partial discography: Manu Dibango "Soul Makossa" (Fiesta, 1972) B000006CL7 Manu Dibango "O Boso" (London, 1973) Manu Dibango "Makossa Man" (Atlantic, 1974) Manu Dibango "Makossa Music" (1975) Manu Dibango "Manu 76" (Decca, 1976) Manu Dibango "Super Kumba" (Decca, 1976) Manu Dibango "Ceddo O.S.T" (Fiesta, 1977) Manu Dibango "A l'Olympia" (Fiesta, 1978) Manu Dibango "Afrovision" (Mango/Island, 1978) Manu Dibango "Sun Explosion" (Decca, 1978) Manu Dibango "Gone Clear" (Mango/Island, 1980) Manu Dibango "Ambassador" (Mango/Island, 1981) B000008F1D Manu Dibango "Waka Juju" (PolyGram, 1982) Manu Dibango "Mboa" (Sonodisc/Afrovision, 1982) B00000IHXQ Manu Dibango "Electric Africa" (Celluloid, 1985) B00004TWIQ B002N7DD1G Manu Dibango "Afrijazzy" (1986) B0000042M1 B000R02ZHO Manu Dibango "Deliverance" (Afro Rhythmes, 1989) B00000IHXR B000R00K44 Manu Dibango "Happy Feeling" (Stern's, 1989) Manu Dibango "Rasta Souvenir" (Disque Esperance, 1989) B00000IHXL Manu Dibango "Polysonik" (1992) B00000B3JO Manu Dibango "Live '91" (Stern's, 1994) B00007GX78 B000QQXLVI Manu Dibango "Wakafrika" (Warner, 1994) B000002L2C Manu Dibango & Cuarteto Patria "CubAfrica" (Corason, 1998) B000024BFN B00260T788 Manu a La Jamaique" (Sonodisc, 1999) B00000IHXM B000QZZ7NO Manu Dibango "Bao Bao" (1997) B000005MXM This cd is a compilation of tracks from Electric Africa and the Deadline Album down by law on which Manu Dibango appeared.They appear to be minor remixes,but maybe it is just different mastering? They renamed the tracks so it is no immediately clear they are from the other albums. Manu Dibango "African Woodoo" B001BEX5D8 >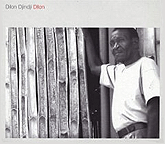 Dilon Djindji "Dilon" (World Music Network/Riverboat, 2002)



Mozambiquan old-timer Dilon Djindi has a subtle grace and melodic softness that is similar to Madagascar's Dama and D'Gary, a plainspoken acoustic sound that will appeal to folks who like their world music sweet and unpretentious. Amazingly, this is Djindi's first album, although he was 75 years old and has been performing professionally for many decades when this set was recorded. Well, better late than never! I don't think anyone will complain about the wait once they hear this sweet set of gentle acoustic tunes.


<! Dilon Djindji - '50s Mozambiquan "marrabenta" pioneer - also spelled Ndjindji >

Nahini Doumbia "Percussion And Songs From Mali" (Arc Music, 2009)



So much attention is given in world music releases to guitar-based and kora music from Mali, it's nice to hear a record that concentrates more on percussion for once. Drummer Nahini Doumbia and his band Les Espoirs Du Mali showcase plenty of dazzling percussion, along with some nice balafon (marimba) playing, and hearty vocals. A nice bit of something slightly different, though still deeply rooted in traditional Malian culture.


<! ARRANGED BY Nahini Doumbia Engineered by Abou Sylla >

---
---



African Music Index
World Music Index


---