! MP3 01/08/10, 02/06/12 > <! update 01/08/10 > <! outside 00/00/00 > <! pix 01/08/10 > <! icons 02/04/11 >
---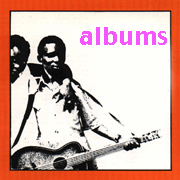 Hi -- welcome to my African music review section. This page includes records by artists under the letter "I". More African music resources can be found at the main index page.
By the way, I'm hardly a world's expert on African music, and this list is kinda whatcha call a "work in progress," so please feel free to make suggestions and comments.
---
A | B | C | D | E | F | G | H | I | J | K | L | M | N | O | P | Q | R | S | T | U | V | W | X, Y, Z | Comps

---
MUSICAL STYLES: Afro-Beat | Music of Cape Verde | South African Jive 'n' Jazz | Main Africa Index
---

Insingizi "Voices Of Southern Africa, v.1" (Arc Music, 2004)



Insingizi "Voices Of Southern Africa, v.2" (Arc Music, 2009)



(Produced by Hubert Weninger)
Exquisite a capella vocals from a Zimbabwean trio singing in the same style as South Africa's fabled Ladysmith Black Mambazo. It's amazing that there are only three voices making such as rich, expansive sound; even the finest doo-wop trios would have been hard pressed to create such rich harmonies. If you like Ladysmith or other Mbube vocals, you'll want to check these guys out, too. With lyrics in Ndebele, with a peppering of religious words such as "hallelujah." Lovely stuff.

Haruna Ishola "Apala Messenger" (IndigeDisc, 2001)


Shorn of all the newfangled, reverb-y highlife guitars, Nigerian talking drum music still retains its full power, as these captivating, spiritually rich percussion-heavy recordings from the late '60s ably show. The call-and-response vocals, along with the unhurried, lulling rhythms, are recognizable as the foundations of the poppy juju sounds of King Sunny Ade and his crew -- kudos to IndigeDisc for uncovering these excellent old recordings from the Decca vaults! For drumming fans, this one is a must... And if these first few releases are any indication, IndigeDisc is a label to keep an eye on!
---
---



African Music Index
World Music Index


---