! MP3 02/20/09, 01/08/10, 02/10/11, 02/07/12 > <! outside 00/00/00 > <! pix 01/08/10 > <! 02/20/09 - checked the ones I'd already reviewed; outlined several discographies > <! icons 02/04/11 > <! UPDATES: 02/20/09, 01/08/10, 02/10/11 - several discographies ready to post - 02/12: got M.Brothers discography info, ready to edit >
---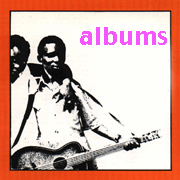 Hi -- welcome to my African music review section. This is the first page reviewing records by artists under the letter "M". More African music resources can be found at the main index page.
By the way, I'm hardly a world's expert on African music, and this list is kinda whatcha call a "work in progress," so please feel free to make suggestions and comments.
---
A | B | C | D | E | F | G | H | I | J | K | L | M-1 | M-2 | N | O | P | Q | R | S | T | U | V | W | X, Y, Z | Comps

---
MUSICAL STYLES: Afro-Beat | Music of Cape Verde | South African Jive 'n' Jazz | Main Africa Index
---

Baaba Maal "The Best Of The Early Years" (Wrasse, 2002)


A fine, representative collection of this Senegalese superstar's work from 1988-94. The opening tracks are gorgeous -- loping, sensuous jams with the classic West African guitar sound of the 1970s, and even a few dips into the Afro-Pop sound of Fela Kuti. The second half of this disc, though, lingers on lush, overwrought pop production styles that I personally find kind of a turn-off, but other world music fans may adore. For an even-handed look at his Maal's early career, this is a very good introduction. The liner notes are very good, too, and may help steer you towards individual albums that may be to your liking.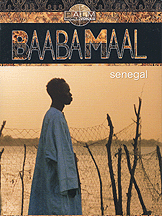 Baaba Maal "Palm World Voices: Baaba Maal -- Senegal" (Palm Pictures/Universal, 2005)


This deluxe package -- a best-of CD, a DVD and a really pretty booklet, along with an ornate map of Senegal -- is a fine introduction to Baaba Maal, one of the great African pop superstars of our time. The real heart of this collection is the video disc, which includes a nice documentary that introduces Maal in the flesh, as it were, presenting the mix of sincere humility and cold calculation that his celebrity requires. Maal takes a film crew to his hometown, and even into his family compound, a humble set of stone buildings inside a walled courtyard; he explains how the Senegalese griot class -- the keepers of West African musical tradition -- initially attacked him as an interloper. Maal's social background, coming from a family of fishers, should have prevented him from performing music... and would have, had he not pursued his career regardless of their wishes... Now, of course, he is a huge star and has been embraced by the griots as a keeper of the flame and a gift from the gods... The film also discusses how Maal and his partner, Mansour Seck, researched music from other cultures and tribes, and how he has sought to widen his status to that of an internationalist "African" performer, while still maintaining their connection to their local roots. It's a fascinating portrait of an artist who is both humble and driven: his charisma and inner power burst out of every frame, even as he appears to be the slightest and most demure of men. The music disc is less gratifying, though. It begins with several lovely acoustic tunes, than quickly shifts into a slick, fusion-y "pop" mode which holds less appeal for folks like me. Still, as an overview of his career and musical philosophy, this is a perfect introduction to Maal and his brand of Senegalese music. Recommended!


<! Baaba Maal & Mansour Seck "Djam Leelii" (Mango, 1984) Baaba Maal & Mansour Seck "Baayo" (Mango, 1991) B00008XS4L Baaba Maal "Lam Toro" (Mango, 1993) B00008OLYC Baaba Maal "Wango" (Syllart/Night & Day, 1988/1994) B00000JQJ6 B003SAJKK0 Baaba Maal "Taara" (Melodie, 1990) B00004UTUJ B003VCH0EI Baaba Maal "Firin' In Fouta" (Mango, 1994) B000003QLM Baaba Maal "Gorel" (Mango, 1995) (LP) B00008FC30 Baaba Maal "Nomad Soul" (Palm, 1998) B000009DYV B001DA18IO Baaba Maal "Souka Nayo (I Will Follow You)" (remixes) (Palm, 1998) B00000DGYP B001NB53OI Baaba Maal "Djam Leelii: The Adventurers" (Yoff Productions, 1998) B00000DGYK B001NGFWQC Baaba Maal "Live At The Royal Festival Hall" (Palm Pictures, 1999) (also DVD) B00000I5FK B001NB6GF8 Baaba Maal "Jombaajo" (Sonodisc, 2000) B0013HN8MQ B002O5T1RC Baaba Maal "Missing You/Mi Yeewnii" (Palm, 2001) B00005A7PH B001NGFLPE Baaba Maal "The Best Of The Early Years" (Wrasse, 2003) (compilation) Baaba Maal "Palm World Voices: Baaba Maa" (Palm. 2005) (compilation) >

Mabulu "Soul Marrabenta" (Riverboat, 2001)






<! nice, relatively stripped down. contemplative feel to many tracks. others a little bland. > <! Kasse Mady - from Mali >

Rachel Magoola "Songs From The Source Of The Nile" (Arc Music, 2006)



One of Uganda's most popular modern singers, Rachel Magoola originally hails from the band Afrigo, where she shone as a solo singer throughout the 1990s. In 2001, she started her own group and has released several albums, where these twelve songs are drawn from. It's a nice, sleek blend of styles, generally falling into the mainstream of modern African pop, but with plenty of traditional Ugandan elements in the mix. Magoola's voice is nice, the rhythms are mellow, the melodies seductive and easy on the ears. Perhaps not as electrifying or ethereal as some other African music, but still quite nice and solidly performed. Worth checking out!
Rachel Magoola "Eisadha" (MHK, 2008)



Vusi Mahlasela "The Voice" (ATO, 2003)



ATO label owner, pop star Dave Matthews, is himself a native of South Africa although he regularly genuflects in the world-music direction of his fellow countryman, vocalist Vusi Mahlasela, who he refers to as "The Voice." This disc is a predictably slick, somewhat florid pop production -- too much so for my delicate sensibilities, but folks with a taste for more sugary, heavily-produced African music (ala Paul Simon's Graceland...) will probably like this best-of collection just fine.


<! Vusi Mahlasela "When You Come Back" (Indigo/Harmonia Mundi, 1992) B000005GF5 Vusi Mahlasela "Wisdom Of Forgiveness" (Indigo/Harmonia Mundi, 1994) B000006DC6 Vusi Mahlasela "Silang Mabele" (BMG, 1997) B00002558Z Vusi Mahlasela "Live At The Bassline" (BMG, 1999) B00149LNQQ Vusi Mahlasela "Miyela Afrika" (BMG, 2000) B001GXE8TO Vusi Mahlasela "Jungle Of Questions" (with the Proud Peoples Band) (2000) Vusi Mahlasela "Naledi Ya Tsela/Guiding Star" (ATO, 2007) B000MMLPA0 B00126M7AC >

Mahube "Music From Southern Africa" (Sheer Sound, 2002)


A Zimbabwean band featuring guitarist Oliver Mtukudzi...
Mahube "Qhubeka!" (Sheer Sound, 2005)


Miriam Makeba - see artist discography

Malika "Tarabu" (Shanachie, 1997)



Sinuous, Arabic-flavored "tarabu" music from the northern, Swahili-dominated coast of Kenya... The music has traces of Arabic, Indian and Latin influences, reflecting the polyglot culture of the region. Malika (nee, Asha Abdo Suleiman) was apparently one of the biggest stars of the genre, although I can't say I was particularly wowed by this album, which was originally recorded in 1993. Her voice doesn't do much for me, and the production mix seems a bit clumsy... Still, it's an appealing form, and it will certainly catch your ear, particularly the "snake charmer"-style organ that winds its way through all the songs. As tarabu is largely a format for poetry, the emphasis here is on the lyrics and vocals, and in that regard, the music coems through loud and clear. Not my cup of tea, ultimately, but certainly worth checking out.
Ze Manel "Tustumunhus Di Aonti" (Cobiana, 1982)



Ze Manel "Maron De Mar" (Cobiana, 2001)



A pleasant African pop album by a Guinea-Bissau bandleader who had recently emigrated to the United States for political reasons... Those political leanings are evident on several songs here, which touch on the widespread warfare and unrest that has engulfed Africa. This is a nice, pleasantly diverse album, with jazzy undertones and intricate musical arrangements. Worth checking out, although I have to confess it didn't really pull me in... (Also check out the stunning album of his earlier band, Super Mama Djombo, also released on the Cobiana label.)
Ze Manel "African Citizen" (Melodie, 2004)


Ze Manel "Povo Adormecido/My People Are Asleep" (2007)






<! Kanté Manfila - from Mali >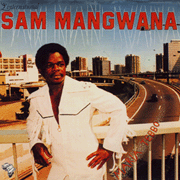 Sam Mangwana "Maria Tebbo" (Stern's Africa, 1995)



A veteran player from the old, early 1960s OK Jazz lineup, Congolese vocalist Sam Mangwana eventually became a bandleader in his own right, emerging from his long association with Tabu Ley Rochereau to become one of Africa's biggest stars. This disc combines two albums he recorded in the late 1970s, Waka Waka, from 1978, and 1979's Maria Tebbo, from 1979. (These release dates are taken from the CD liner notes; different years are listed on various online discographies.) The music is pleasant, ebullient at its heart, although a little tame and slick-sounding, an early indication of the perils to be found in the 1980s, when much of African pop music was being recorded in Parisian studios. Although it isn't as lively or captivating as the best soukous music, this is still classic work, and definitely well worth checking out.

Sam Mangwana "Sings Dino Vangu" (Stern's Africa, 2000)



Although these days he's mostly pegged as one of the pioneers of modernized African pop fusion, it's much to his credit that Mangwana still has the smarts, sensibility, and talent to take time out and produce an album such as this. A beautiful tribute to the old-style rumba congolaise sound of the '50s and '60s, this is a collection of tunes written by his pal, Congolese guitarist Dino Vangu... and it's awesome. Everything that's best about the style is captured on this lovely, melodically driving album, full of intricate, captivating electric guitar work and ethereal vocals. This record won't let you down, from the first great track to the last.


<! Sam Mangwana "With Festival Des Maquisards" (1977) Sam Mangwana "Waka Waka" (1978) Sam Mangwana "Maria Tebbo" (1979) Sam Mangwana "Georgette Eckins" (1979) Sam Mangwana "Matinda" (1979) Sam Mangwana "Affaire Disco" (1981) Sam Mangwana "Est-ce Que Tu Moyens?" (1981) Sam Mangwana "Cooperation" (1982) Sam Mangwana "Affaire Video" (1982) Sam Mangwana "N'Simba Eli" (1982) Sam Mangwana "Bonne Annee" (1983) Sam Mangwana "In Nairobi" (1984) Sam Mangwana "Aladji" (1987) Sam Mangwana "For Ever" (1989) Sam Mangwana "Lukolo" (1989) Sam Mangwana "Capita General" (1990) Sam Mangwana "Megamix" (Syllart, 1990) B0015DM49G B000TPYS2W Sam Mangwana "Rumba Music" (Stern's Africa, 1993) B00000DD9M B000QZW8AO Sam Mangwana "No Me Digas No" (1995) Sam Mangwana "Galo Negro" (1998) Sam Mangwana "Sam Mangwana Sings Dino Vangu" (2000) Sam Mangwana "Volume 1 -- Bilinga Linga: 1968/1969" (2000) Sam Mangwana "Volume 2 -- Eyebana: 1980/1984" (2000) Sam Mangwana "Very Best Of..." (2001) Sam Mangwana "Cantos De Esperanca" (2003) Sam Mangwana "Patria Querida" (Mangwana International, 2008) MP3: B0017T9HT8 >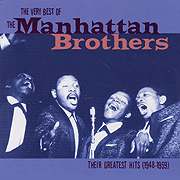 The Manhattan Brothers "The Very Best Of The Manhattan Brothers: 1948-1959" (Stern's, 2000)



A stunning, joyous set of doo wop-like "jive" vocals from some of South Africa's greatest post-WWII musicians. The Manhattan Brothers were one of the first groups to benefit from the booming postwar economy that brought black South Africans into the cities in large numbers, making their sort of pop success possible. Singing in Shona, Xhosa, Zulu and English, the Manhattan Brothers mixed sleek swing vocals with proto-doo wop and jubilee gospel, and were the group that set the standard for the many vocal groups that came in their wake, including Miriam Makeba's late-'50s ensemble, The Skylarks. Makeba herself first came to prominence as a soloist in the Manhattan Brothers ensemble, and appears on several of these tracks. The feel is playful and glorious, with some of the lushest, most swinging vocals you're ever likely to hear on disc. This is a great record - a highly welcomed addition to the all-too-small pool of similar records that uncover this forgotten style of American-influenced South African pop. HIGHLY recommended!

Dumisani Abraham Mariare "The African Mbira: Music Of The Shona People" (Nonesuch, 1971/2002)



Lovely, early recordings of delicate music played on the mbira, or Zimbabwean finger piano. With the rise of pop stars such as Stella Chiweshe, this style has since become much grander, more forceful and more tightly arranged, but on this album, originally released in 1971, the style is far looser and enchanting in a different way altogether. This was one of the first albums released in America to feature this style of music, an immensely influential release in terms of the growth of "world music" and interest in African styles. Nice stuff... definitely recommended!

Aurelio Martinez "Laru Beya" (SubPop/Next Ambiance, 2011)



(Produced by Ivan Duran)
A beautiful new set by Aurelio Martinez, one of the torchbearers of the Garifuna culture, a Central American enclave with deep African roots. Here, Martinez is backed by the legendary Senegalese band, Orchestra Baobab, who add an even deeper African groove to the music. The first time I listened to this album, I thought it sounded a little slick; the second time, I heard all sorts of new melodies and sounds I hadn't noticed before; the third time I listened I realized how multi-layered it truly was and now -- still hearing new things every time -- I've left it in permanent rotation in the old home jukebox. Solid West African dance music melds perfectly with a subtle blend of Latin American styles and pop motifs, with sometime-sweet, sometimes-keening vocals. An exemplary world music album that will reward listeners for years to come!

The Marxist Brothers "Greatest Hits Of Early Music" (ZMC, 1997)
Zimbabwe has never had the best track record in terms of pop music -- civil wars, extreme poverty and political pandering often got in the way and made it difficult to indulge in music for its own sake, outside of its propaganda value. At any rate, the guitar pop that has come out of Zimbabwe never really rang my bells -- the country's performers are typically not on a par with their neighbors, and as a whole the Zimbabwean take on popular music strikes me as a bit rigid and less joyous than that of the Congo or Guinea, for example. This is a pretty good band by Zimbabwean standards, worth checking out if you want to get a feel for the music of the region. I can't tell from the liner notes when these tracks were made, but I'd guess early-to-late '80s. How about that band name, though, eh?

The Marxist Brothers "Mwana Wedangwe" (Gramma, 1983)


The Marxist Brothers "Dendere Resango" (Gramma, 1985)


The Marxist Brothers & Tryson Chimbetu "Marxist Revival" (Zimbabwe Music Corporation, 2011)





<! Chimbetu worked for a tobacco processing company for many years after the attainment of political freedom in 1980. His passion for music did not wane. Rather, he regularly played at Mushandirapamwe Hotel in Highfield, a high-density suburb in Harare. At this point he was backed by John Chibadura's Sungura Boys as he did not have his own instruments. His younger brother, Naison backed him and together they performed as Marxist Brothers because of the then prevailing political ideology which had also shaped Simon's war experiences. Together, the siblings penned songs like Dr Nero(Naison) and Nherera(Simon) which gave them visibility on the Zimbabwean musical front. * Mwana Wedangwe (1983) * Kunjere Kunjere (1985) * Dendera Resango (1985) * Sarura Yako (1987) * Kuipa Chete (1988) * Marxist Brothers (1989) * Boterekwa (1989) * Greatest Hits of Early Music [edit] Simon Chimbetu & Orchestra Dendera Kings * Ngouva Yakaoma (1990) * Ndouraiwa (1992) * Karikoga (1993) * Pachipamwe (1994) * Survival (1997) * Zuva Raenda (1997) * Lullaby (1998) * African Panorama - Chapter One (1999) * 2000 Blend (2000) * African Panorama - Chapter Two (2001) * Takabatana (2001) * Hoko (2002) * 10 Million Pounds Reward (2005) >

Spokes Mashiyane "King Kwela" (Gallo, 1991)



Bouncy South African pennywhistle, or kwela, music from the leader of the Solven Whistlers, and a frequent early collaborator with Miriam Makeba and the Skylarks. Mashiyane pretty much made the pennywhistle a popular sound, and few people could match him for the expressiveness he brought to such a seemingly limited instrument. Sadly, his star fell after his 1950s heyday, and Mashiyane died penniless and forgotten in the early '70s... Fortunately, he left behind some gorgeous music, as heard on this fine disc. For an all-instrumental album highlighting a fairly oddball sound, this disc is far more captivating than one might imagine. Recommended!
Abeti Masikini "The Best Of Abeti Masikini" (Blue Silver-France, 1997)





<! Congolese female singer, worked with Mbilia Bel early in Bel's career >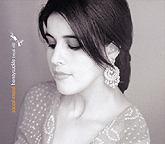 Souad Massi "Mesk Eli (Honeysuckle)" (Wrasse, 2005)



French-Algerian chanteuse Souad Massi returns with an elegant, ambitious album, full of soft songs cloaked in sleek, beautiful and multilayered arrangements. Working with members of Salif Keita's band, she stakes out a claim as a new-school, modern, pan-African artist, working with a variety of sounds, including West African pop, French chanson, flamenco, and a hefty dose of Arabic melodies... These influences are somewhat intangible, however, for she rarely works in just one mode at a time, preferring instead to mix diverse styles together in unexpected ways, constantly shifting from mode to mode... I'll confess, I'm not completely wild about her vocals -- she sounds nice, for some reason this just didn't move me -- but in terms of it's conception and technical execution, I'd say this is a seductive, innovative and pleasantly unpredictable album, just the thing to pique the interest of most "world music" fans. Definitely worth checking out.


<! Souad Massi "Raoui" (2001) B0002YLCP6 B001AL5LKC Souad Massi "Deb" (Wrasse, 2003) B0002H4MB4 B001NTNK40 Souad Massi "Mesk Elil" (Wrasse, 2005) B000BCKFJ8 Souad Massi "Live Acoustique" (2007) Souad Massi "Acoustic: The Best Of Souad Massi" (2007) B000WZ4YAA B001AL3HC6 Souad Massi "Acoustic: The Best Of Souad Massi" (2007) (DVD) B000XQ3I7I >

Dorothy Masuka "Pata Pata" (Island-Mango, 1991)


A "comeback" album that features updated, modernized versions of many of her old hits... "Pata Pata" starts things off, in a slick rendition that's more in keeping with the '80s-ish production of the following songs than with Masuka's classic work of decades before... But deeper into the album, the old "jive" style comes more clearly to the fore. Although this album is mostly too glossy (even monotonous) for me, on the whole it still speaks well to Masuka's continuing musical strength, beginning her fifth decade as a performer. Worth checking out, though you shouldn't expect much.
Dorothy Masuka "Hamba Notsokolo" (Gallo, 1997)

Dorothy Masuka "Mzilikaki" (Gallo, 2001)


Dorothy Masuka "The Definitive Collection" (Wrasse, 2002)


An early contemporary of Miriam Makeba, Dorothy Masuka was part of the 1950s South African "jive" scene, mixing American-style group vocals and swing beats with local melodic and harmonic styles. She's best known as the author of the song, "Pata Pata," which was one of Makeba's earliest and biggest international hits. Like Makeba, Masuka found herself in exile in the early 1960s, as the campaign against apartheid intensified and artists seen as sympathetic to the African National Congress were proscribed and placed under threat of arrest. Unlike Makeba, she was unable to crack into the international market in Europe and the USA, performing (and for a while retiring from music, in order to keep a low profile) mainly in the other African countries that were able to shelter her. This collection gathers some of her rare early work on the Gallo label, off of stellar albums such as Hamba Notsokola, (her 1950s debut), and moves on to include later, glossier material from the early 1990s, when she made her comeback. It's the old stuff that I find irresistible: I just love the original "jive" sound. It's nice, though, to see Masuka finally getting her due, and this retrospective is a most welcome addition to any African pop library. Recommended!
---
African Artists... More Letter "M"
---



African Music Index
World Music Index


---