! MP3 02/21/09, 01/10/10 > <! update 02/21/09 > <! outside 00/00/00 > <! pix 00/00/00 > <! 02/21/09: unable to find a Papa Noel discography due to disambiguation difficulty > <! icons 02/04/11 >
---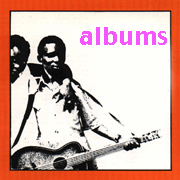 Hi -- welcome to my African music review section. This page includes records by artists under the letter "P" More African music resources can be found at the main index page.
By the way, I'm hardly a world's expert on African music, and this list is kinda whatcha call a "work in progress," so please feel free to make suggestions and comments.
---
A | B | C | D | E | F | G | H | I | J | K | L | M | N | O | P | Q | R | S | T | U | V | W | X, Y, Z | Comps

---
MUSICAL STYLES: Afro-Beat | Music of Cape Verde | South African Jive 'n' Jazz | Main Africa Index
---

<! Andy Palacio - technically not "African" but still.... > <! http://en.wikipedia.org/wiki/Arawakan - language info > <! discography ? >

Papa Noel "Bel Ami" (Stern's Africa, 2000)


Papa Noel & Adan Pedroso "Mosala Makasi" (Yard High, 2001)



Papa Noel & Papi Oviedo "Bana Congo" (Tumi Music, 2002)



Cuban tres picker Oviedo and Congolese guitarist Papa Noel explore the interconnections of African and Latin American pop, in this fluid and quite listenable collaboration. The back-and-forth history of Afro-Cuban music isn't exactly news to world music fans, but this disc is notable for its inclusion of newer, post-1960s styles, such as NYC-style salsa, as well as for its economy and grace. Nice record; a little heavier on the Latin side of the equation. Worth checking out.
Papa Noel "Cafe Noir" (Tumi Music, 2007)






<! with numerous guests, including Manu Dibango, Rey Crespo, others >

Pazy And The Black Hippies "Pazy And The Black Hippies" (EMI, 1976)



<! (NEMI LP 206) Producer : Odion Iruoje / The Black Hippies Recorded by K.Salami & M.Oki Tracks = Side A : Doing it in the street (5'10) - Edire Etinagbedia) / I have the love on you (5'40 - Edire Etinagbedia) / Love (4'05 - Sonny Orovie) Side B : The world is great (9'05 - Edire Etinagbedia) / You are my witness (8'36 - Edire Etinagbedia) >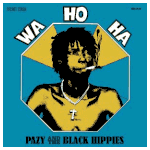 Pazy And The Black Hippies "Wa Ho Ha" (Secret Stash, 1978/2012)


(Produced by M. Oki)
Electrified African reggae and rock-flavored highlife played at a manic, breakneck pace... This record, originally released in 1978, was the second album by Nigerian guitarist-bandleader Edire "Pazy" Etinagbedia who put a clear "American" stamp on his band's name and their sound. It's a little too hyperactive for me (I prefer more laid-back stuff) but it's certainly an impressive bit of crate-digging, uncovering yet another layer of rare, obscure, ecstatic African pop from the golden era of the '70s. Standout tracks include the disco-funk of "Papa's Black Dog" and the straight-up electric rock'n'roll of "Elizabeth," which is perhaps the least typical track on this collection.


<! second album > <! While reggae music had its prominence in 70s Nigeria, it was highlife and Fela Kuti's Afrobeat that gave the country its own musical national identity. Originally Edire 'Pazy' Etinagbedia and his band The Black Hippies released their second LP, Wa Ho Ha on EMI Nigeria in 1978. Wa Ho Ha features Pazy and his Black Hippies engaged in call and response vocal anthems all backed by incredibly deep rock steady grooves and Afrobeat rhythms filled with funky horns and psychedelic guitar accents. Recorded in the legendary EMI Nigeria studios, Wa Ho Ha typifies the 70s Nigerian sound enthusiasts the world over have come to know and love, but puts an inimitable twist on it. > <! Fany Pfumo - '50s Mozambiquan "marrabenta" pioneer; also active in '90s, during revival >

Geraldo Pino & The Heartbeats "Heavy Heavy Heavy" (Retroafric, 2005)



A welcome collection of formative Afro-funk by a Sierra Leone bandleader who was a major influence on Nigeria's legendary Fela Kuti.
Geraldo Pino & The Heartbeats "Afro Soco Soul Live" (Soundway, 2005)


A vinyl-only release of more vintage Afro-funk by Geraldo Pino...
Geraldo Pino & The Heartbeats "Let's Have A Party" (Soundway, 2005)


A vinyl-only release of more vintage Afro-funk by Geraldo Pino...


<! Pioneer Jazz - early electrified Malian band - not sure if they had any records http://en.wikipedia.org/wiki/Music_of_Mali > <! PRINCE NICO - SEE NICO MBARGA >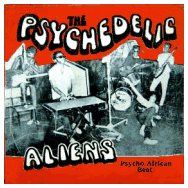 The Psychedelic Aliens "Psycho African Beat" (Academy Records, 2010)



Cool vintage recordings of a Ghanaian band with an audacious mix of African funk and '60s-style American hippie rock -- soul rhythm riffs and soaring electric guitars worthy of a night at the Fillmore. Indeed, if it weren't for the African dialect, you'd be hard-pressed not to think that this was a board recording of one of the opening acts at a Big Brother & The Holding Company gig. This disc collects three rare singles that the band put out between 1970-71, gathered together courtesy of cratedigger Frank Gossner (of the band Squarepusher) who researched the group and found that several bandmembers were of non-Ghanaian backgrounds (perhaps explaining their affinity for American-style rock and soul...) The early songs are spaced-out jam sessions, without a lot of pop concision or melodic drive, but by time they recorded "Gbe Keke Wo Taoc," a clearer-cut, more aggressive, Fela-influenced Afrobeat sound emerges, although still with a little Summer Of Love twist. Not necessarily the most awesome Afro-pop ever, but definitely a nice time capsule... Nice to hear an entire album's worth of material by one of these long-forgotten bands, and not just have them sandwiched in on a compilation album.
---
---



African Music Index
World Music Index


---