<! MP3 02/22/09, 01/11/10, 02/07/12 > <! update 02/22/09 > <! outside 00/00/00 > <! pix 01/11/10 > <! 02/22/09: add Sangare reviews, research "S" > <! icons 02/04/11 >
---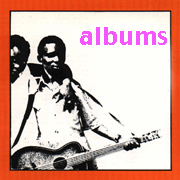 Hi -- welcome to my African music review section. This page includes records by artists under the letter "S" More African music resources can be found at the main index page.
By the way, I'm hardly a world's expert on African music, and this list is kinda whatcha call a "work in progress," so please feel free to make suggestions and comments.
---
A | B | C | D | E | F | G | H | I | J | K | L | M | N | O | P | Q | R | S | T | U | V | W | X, Y, Z | Comps

---
MUSICAL STYLES: Afro-Beat | Music of Cape Verde | South African Jive 'n' Jazz | Main Africa Index
---

<! Fanta Sacko - influential Malian musician, pioneered bajourou music no albums as of 02/09 >

Samite "Dance My Children Dance" (Shanachie, 1990)


Samite "Pearl Of Africa Reborn" (Shanachie, 1992)


Samite "Silina Musango" (Green Linnet-Xenophile, 1996)


Samite "Stars To Share" (Windham Hill, 1999)


Samite "Kambu Angels" (Wind Over The Earth, 2001)


Samite "Tunula Eno" (Triloka, 2003)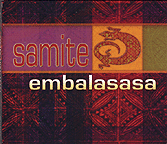 Samite "Embalasasa" (World Village, 2006)


A super-mellow, acoustic-based set from an Ugandan expatriate now living in the United States... The music mixes flute, guitar and finger piano (in Uganda, called a kalimba), providing a gentle, almost sugary bed for Samite's soft, half-whispered voice. He calls for peace and a cure for AIDS -- two global ills that are having particularly devastating effect on Africa -- while instilling serenity on his listeners with this quiet, lulling set. If you're looking for music that is easy on the ears and calming on the nerves, this may be an ideal album.
Oumou Sangare "Moussoulou" (Nonesuch, 1991)


Oumou Sangare "Ko Sira" (1993)


Oumou Sangare "Worotan" (1996)

Oumou Sangare "Oumou" (Nonesuch, 2004)

Oumou Sangare "Seya" (Nonesuch, 2009)



Julia Sarr & Patrice Larose "Set Luna" (Universal-France/No Format, 2005)



An interesting acoustic set featuring vocals by Senegalese-Gambian expatriate Julia Sarr, along with French guitarist Patrice Larose. The opening tracks are the best, with a nimble, gliding feel that's more softer than much of the modern, electrified Senegalese pop we've heard in recent years. African pop superstar Youssou N'Dour guests on the title track (and has been a champion of Sarr's budding career); Leity M'Baye guests as well. This album has a distinctive feel; Larose adds a light, deft accompaniment which compliments Sarr's reserved, introspective vocals. As the album wears on, though, she shifts from more traditional-sounding African phrasing into an amorphous, free-flowing neo-soul crooning, and while it's okay for a tune or two, it goes on and on in the same vein from the middle of the record to the end and wears thin quick if you aren't already inclined towards modern soul music. Still, for many listeners I think Sarr will come as a minor sensation; folks looking for a new sound, and for something on the mellow side, may welcome her the same way that Cesaria Evora and Habib Koite have been embraced in recent years. I don't think this album is nearly on the same calibre as either of those artists, but I think the appeal may be much the same. For the right world music fan, this would certainly be worth checking out.

Sedhiou Band "Africa Kambeng" (Africassette, 1998)


At the time of this recording, the Sedhiou Band was the longest-lived working ensemble in West Africa, with a sound that is both accomplished and rough. "Afro-Manding," as they call it, combines the sleek, intricate electric guitar playing of other modern African pop with a more rugged, rural regional folk style -- keening vocals, irregular, stuttering rhythms and a chunky sense of harmony. It's unusual and alluring... Also present is a strong Afro-Cuban influence, best heard in gentle songs like the Spanish-language "El Carretero," and the luxurious "Combinacion," which uses the venerable "Guantanamera" as the base for an extended, gritty jam session. Definitely worth checking out!


<! Sedhiou Band "Africa Kambeng" (Africassette) B000050V8Y The oldest established orchestra still performing in West Africa, Sedhiou Band introduces the "Afro-Manding" sound full of intricate arrangements that feature intense interplay between the guitarists, percussionists and vocalists. In this, its first international recording, Sedhiou Band treats you to the rhythms indigenous to the hard scrabble farming community in which the band still lives, works and plays. >
Shikamoo Jazz "Chela Chela, v.1" (RetroAfric, 1995)



This disc provides a new twist on on the RetroAfric label's preservationist mission: the songs themselves by this Tanzanian ensemble are vintage 1960s Afro-pop, but the performances are from the 1990s. Shikamoo Jazz is an 11-piece ensemble made up of veteran players such as Fundi Konde (who has his own disc in this same series) that's sort of a Tanzanian version of the Buena Vista Social Club, keeping alive the classic music of Tanzania's early-'60s, East African "jazz" scene, but makes the material live again for modern audiences. They call their music "chela chela"; I call it awesome. More lovely stuff, with some offbeat touches, such as the antique-sounding keyboard, which calls to mind the Arabic-flavored explorations of Ethiopia's Mahmoud Ahmed (who is featured in the fabulous ETHIOPIQUES series, on Buda Musique.) Unique sounding, sometimes a little clunky, but definitely worth checking out!

George Sibanda "The Legendary George Sibanda: 1948-52" (SWP Records, 2008) <! date? >


An archival delight, featuring recordings of Rhodesian singer-guitarist George Sibanda, who was one of Southern Africa's first commercial stars... Apparently he was a bit of a mystery man as well -- the folks at the SWP label were unable to unearth any biographical information about him (not even a photo!) even though they are the curators of the music archive that original recorded Sibanda's music. Sibanda recorded for several years, then died young after falling off the rails and becoming a heavy drinker: by the end of the 1950s, he was gone. The music he left behind was great, though -- fun, idiosyncratic acoustic tunes with the bounce and unevenness of early Kenyan benga. Included is Sibanda's original version of the song "Guabi Guabi," which entered the American folk repertoire through versions by Ramblin' Jack Elliott, Jim Kweskin and others. The music might not be entirely accessible even to open-minded, modern world music fans, but for those who like kooky, antique, uncategorizable styles, this is a real treasure. The SWP series, by the way, collects the work of European musicologist Hugh Tracey, who documented and recorded countless African styles over the course of several decades as a professional song-catcher. It's great stuff - definitely worth tracking down!

Sila & The Afrofunk Experience "Funkiest Man In Africa" (Visila, 2006)



Kenyan expatriate Sila, backed by a loose-limbed, funky SF Bay Area band, revives the original, politically-charged spirit of '70s afrofunk with this earnest set of loping, danceable groove tunes. The long shadow of Fela Kuti hangs over the first half of this album, with a bit of Gil Scott-Heron in there as well... Things are pretty groovy until the last few tracks, when the band gets a little dubby, slower, and more experimental. That, and Sila's occasional vocal similarity to Sting are the main downsides -- other than that, this is a pretty solid set from this San Francisco-based ensemble... Bet they're a blast live!
Sila & The Afrofunk Experience "Black President" (Visila, 2006)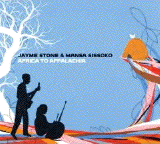 Mansa Sissoko & Jayme Stone "Africa To Appalachia" (Self-Released, 2008)



(Produced by David Travers-Smith)
This collaboration between Canadian roots-bluegrass performer Jayme Stone and Malian griot Mansa Sissoko came out of a two-month journey to Africa, in which Stone explored the African connections to Appalachian mountain music, and in particular to his own instrument, the banjo, an African instrument that came into the American backwoods via minstrel shows and the slave economy of the pre-Civil War era. While in Mali, he met and recruited Sissoko, who adds the haunting vocals and kora harp that have become so well known in world music circles -- Sissoko's playing is beautiful, and the tracks where he takes the lead are standouts. The integration of the two styles isn't always consistent -- Sissoko often plays what sound like essentially unaltered griot ballads, while Stone leaps into improvisational bluegrass flights that make nods towards Tony Rice and others, but aren't always clearly African influenced. When Stone slips the banjo and fiddle into songs such as "Tree To Tree," however, it's pretty groovy, and while a whole album's worth of genre-bending experiments might have done more to make the case for a connection between the two styles, the entire album is quite lovely and meditative... A nice record, very creative and filled with sweet, lulling melodies. Recommended!


<! Sila & The Afrofunk Experience - listed in Afrobeat section >

Gino Sitson "Song Zin... Vocadelic Tales" (Piranha, 2002)



Hailing from Cameroon, world-jazz vocalist Sitson has been compared to American a capella experimentalist Bobbie McFerrin; you might also want to toss in a comparison to Brazil's Milton Nascimento to round things off, with music that mixes indigenous themes in with jazz-derived ululations and vocal meanderings. This disc is a little too spacy and jazz-oriented for my tastes, but world music fans on the mellower end of the spectrum might want to check it out.
Gino Sitson "Vocal Deliria" (Polyvocal, 2005)


Gino Sitson "Bamisphere" (18th & Vine, 2007)




The Skylarks (with Miriam Makeba) v.1 (Teal Records, 1991)


The Skylarks (with Miriam Makeba) v.2 (Teal Records, 1991)


Absolutely mindblowing. Before her days as a 1960s folk scene/world music crossover superstar, South African diva Miriam Makeba was part of this somewhat humbler (but way more rocking!) "jive" group. A jazzy, Tin Pan Alley vibe predominates, though mixed with a skiffle beat and complicated, doo-wop-tinged group vocals. Beautiful female vocals and great guitar work -- these two discs are a real treat. If only more of this style of '50s African pop were available!
The Skylarks (with Miriam Makeba) "The Best Of" (BMG, 1998)


An 18-track best-of that covers the same turf as the Teal albums listed above. Personally, I can't get enough of this stuff, so I'd recommend the two volume version as a matter of principal, but the fact of the matter is this music is so hard to find that if you come across this single-CD collection, don't hesitate to snap it up. It's great.

Idrissa Soumaoro "Kote" (Wrasse/Syllart, 2003)



Unusual, atypical Malian pop music, with a softer, folkish edge to it, dipping into blues, acoustic musings and what seems almost like French musette music, on the album's opener, "Cherie." Although Soumaoro is a Bamako old-timer, an erstwhile member of Salif Keita's 1970s band, Les Ambassadeurs, this is actually his first solo album, recorded after decades of musical activity. In his day job, Soumaoro is a teacher for the blind, and has even formed a musical group whose members are all visually impaired. For something mellow and a bit different than the standard Malian fare, this is a record worth checking out.
Idrissa Soumaoro "Djitoumou" (Syllart, 2009)


Soweto Gospel Choir "Voices From Heaven" (Shanachie, 2005)



Soweto Gospel Choir "Blessed" (Shanachie, 2006)



Hearty, soulful religious music from modern-day South Africa. I've never been a huge fan of most South African township music, not even the lush harmony arrangements of Ladysmith Black Mambazo, although I do recognize the how technically amazing much of it is, and totally understand why it wows lots of other people... Naturally, this new group begs comparison to the much-vaunted Ladysmith, and overall they hold up well... Some notable qualities are the prominence of female voices (in contrast to Ladysmith's male chorus) and the overt, heavy influence of contemporary American-style gospel (with many songs sung in English, incuding standards like "Oh Happy Day"). In some ways, I'd say this is almost more of a straight, American-style gospel offering, than a "world music" record, or at least that folks who are used to the classic township style should be prepared for a sound that includes greater outside influence. Worth checking out.
Soweto Gospel Choir "African Spirit" (Shanachie, 2007)


Soweto Gospel Choir "Live At The Nelson Mandela Theatre" (Shanachie, 2008)



Star Band (de Dakar) "Number 1 De Number 1" (Dakar Sound, 1996)


Latin dance, African style... This is a collection of early work from the Senegalese band that would foster the talent of vocalist Youssou N'Dour, who later went on to become a global superstar...
Super Biton De Segou "Afro Jazz Du Mali" (Melodie-France, 1997)


Super Biton De Segou "Belle Epoque" (Sonodisc, 2000)





<! Super Biton de SŽgou - Malian band of the 1960s(?) contemporary of the Rail Band > <! N'Dour in this as well? Gave birth to both Etoile De Dakar and Orq. Baobab (according to Wikipedia) (No entry for Etoile De Dakar as of 02/09) >

Super Cayor De Dakar "Sopente" (Popular African Music, 1997)





<! 1. Xamsa Bopp (To Get to Know Oneself) 2. SopentŽ (Standing Together) 3. D'goo (Unity) 4. Nawle (Neighbour) 5. Capitale - Region 6. Xewell (Chance) 7. Diankhe Ndaw (Young Girl) 8. Gu'nt (Dreaming) 9. Nampalal Sa Dom 10. Waxumag >

Super Cayor De Dakar "Embouteillage" (Popular African Music, 2001)


The second collection of Cuban-flavored music by this Senegalese dance band. A very mellow, low-key vibe prevails; sweet stuff with a hypnotic effect; some tracks are a little monotonous, most are trance-inducing and cool. Definitely worth checking out.


<! 1. degoo 2. embouteillage # 3. el malico # 4. masla 5. concertation 6. el rico son # 7. dšm 8. degoo > <! SUPER ETOILE BAND: see Youssou N'Dour >

Super Eagles "Senegambian Sensation" (RetroAfric, 2002)



This electrified Gambian dance band sprang out of the ashes of the early 1960s group, African Jazz (heard on the EAST OF AFRICA collection) and later provided the core group of Africando, one of the great Afrocuban bands of the '80s and 90s. This disc captures the Super Eagles in their late-'60s/early-'70s heyday, playing a kind of music called ndagga, which was the roots of the mbalax pop style made popular my Youssou N'Dour and Etoiles de Dakar. This album opens with some beautiful, mellow guitar music, then shifts into American-style R&B and pop, including a Beatles song and several English-language soul numbers, sung by Badou Jope, who pioneered the genre inside Africa. The soul stuff might not be for everyone, although fans of Afro-Beat may find it an interesting stylistic footnote...

Super Mama Djombo "Super Mama Djombo" (Cobiana, 2003)



Highly recommended! A gorgeous, utterly alluring collection of music by one of the most influential popular bands from the tiny nation of Guinea-Bissau. Super Mama Djombo formed shortly before the nation's independence from Portugal and their fortunes rose and fell along with that of the country's first president, Luis Cabral. Touring widely, they gained a strong loyal audience, and made it to Lisbon in 1980 for a mammoth, marathon recording session that yielded material for the five albums (and previously unreleased tracks) that contribute to this collection. What's most striking about the first songs on this disc are the glorious lead guitars, full of subtle wah-wahish reverb, and quite unlike most African electric guitar work. These songs are also quite lyrical; the slower numbers convey a haunting loneliness with a strong, sorrowful spiritual feel. On later tracks, the band eschews this guitar effect, and sound more like other bands of the era. It's all high quality stuff, though, some of the finest African pop you're likely to come across. (Note -- the band broke up in the early '80s, following a political coup that undid much of the cultural liberalism of the early independence era. Drummer Ze Manel released a solo album that was critical of the new government, and was compelled to emigrate elsewhere; the Cobiana label has also released one of his recent albums, which can be found at their website: http://www.cobianarecords.com.
---
---



African Music Index
World Music Index


---