! MP3 01/08/10 - all done > <! update 01/08/10 > <! outside 00/00/00 > <! pix 01/08/10 > <! 02/15/09, 01/08/10: add Grand Kalle discography > <! icons 02/04/11 >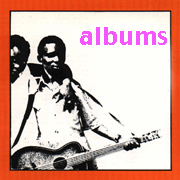 ---
Hi -- welcome to my African music review section. This page includes records by artists under the letter "G". More African music resources can be found at the main index page.
By the way, I'm hardly a world's expert on African music, and this list is kinda whatcha call a "work in progress," so please feel free to make suggestions and comments.
---
A | B | C | D | E | F | G | H | I | J | K | L | M | N | O | P | Q | R | S | T | U | V | W | X, Y, Z | Comps

---
MUSICAL STYLES: Afro-Beat | Music of Cape Verde | South African Jive 'n' Jazz | Main Africa Index
---

Gamana "Le Marija" (Lyrichord, 1999)



Yummy!! A lovely change of pace from the aggressively-arranged pop albums by better-known Madagascarian bands such as Tarika and Tarika Sammy... This has the same musical elements; the supple acoustic guitar, the plucked harp, distinctive percussion and Malagasy vocals, but here it's all done at a much more leisurely pace, and as a result is more seductive and lulling. Well worth checking out.

Grand Kalle & L'African Jazz "Merveilles Du Passe, v.1: 1958-1960" (Sonodisc, 1992)



Gorgeous, classic work from Congolese bandleader Joseph Kabasele Tshamala, aka Grand Kalle, whose tremendously influential dance band, L'African Jazz, fostered the talent of African pop stars such as Dr. Nico, Tabu Ley Rochereau, Manu Dibango, and others. These gorgeous early recordings feature the type of elegant, hypnotic, multilayered electric guitar work that make Congolese pop such a delight -- more stunning still is the thought that these beautiful, sophisticated guitar riffs came years before the maturation of British and American rock music, in the wake fo the so-called British Invasion. Also, the sound quality is quite nice: apparently Grand Kalle was a real stickler for high technical standards. A wide variety of styles comes together on these tracks, in particular the influence of Cuban dance music is strongly felt (hence, the labeling of this sound as "rumba" music...) Lyrics are in French, Spanish and local languages.

Grand Kalle & L'African Jazz "Merveilles Du Passe, v.2: 1961-1962" (Sonodisc, 1992)



On this second volume of Grand Kalle's early work, the Cuban influence becomes much more prominent -- dominant, even -- with harder, more driving rhythms and more piercing melodic runs. I prefer the softer, more subtle guitar runs and the more "African" sounding songs, but fortunately there's still plenty of that here as well, with Tabu Ley and others still creating some of the prettiest music you'll ever hear. Recommended!
Grand Kalle & L'African Jazz "Succes Des Annees '50-'60, v.1" (Syllart, 2006)


Grand Kalle & L'African Jazz "Succes Des Annees '50-'60, v.2" (Syllart, 2006)


Grand Kalle & L'African Team "Volume 1" (Syllart, 2006)


Grand Kalle & L'African Team "Volume 2: 1967, 1968, 1970" (Syllart, 2006)


Grand Kalle & L'African Team "Volume 3: Essous/Kwamy/Mujos/Edo/Casino" (Syllart, 2006)






<! http://www.music.us/biography/artist/27386/grand_kalle.html Biography Born Joseph Kabasele Tshamala, 1930, Matadi, Zaire, d. 11 February 1983, Paris, France. The father of modern Zairean music, Kalle's earliest musical experiences were as a member of the church choir in his home town of Matadi. Moving to Kinshasa in 1950, he worked with Orchestre De Tendence Congolaise, a band that specialized in acoustic polka and mazurka rhythms, derived from records brought to the country by colonial settlers. In 1953, keen to develop a genuinely Congolese style, he formed African Jazz, based on the Afro-Cuban tradition and in particular the rumba, samba and cha cha, all played in a distinctively Congolese fashion. Over the years, the group included many of the future stars of Zairean music, including Dr. Nico and Tabu Ley, and provided a training ground for the next generation of Zairean musicians. By 1960, Kalle and African Jazz were the top band in the Congo, releasing literally hundreds of 78s each year (mainly on the local Decca Records label) and filling dancehalls throughout the country. In 1961, the group embarked on an extensive West African tour, introducing the Congolese Afro-Cuban style to audiences in Ghana, Nigeria, Ivory Coast, Sierra Leone and Guinea and making a huge impact on local musicians. Guinea's Bembaya Jazz, for instance, credit Kalle's 1961 tour with the birth of West Africa's Latin American-influenced sub-style, still a popular alternative to highlife, juju and afrobeat. In 1960, Kalle created his own label, Surboum African Jazz, sending musicians like Franco and OK Jazz to Belgium to record. The same year he composed his still popular hymn to the new independent Congo, "Independence Cha Cha" (which featured a magnificent guitar solo from Dr Nico, still mimicked by young Zairean guitarists today). Also in 1960, he recorded "Okuka Lokole", a tribute to Louis Armstrong, who visited Zaire on a tour sponsored by the US State Department. Kalle relished composing tribute songs and at the 1967 Organization of African Unity in Kinshasa he presented each of the 30 heads of state with a song praising their own country in the appropriate local melody and rhythm. He also performed satires and lampoons of local politicians, and in 1969, feeling himself to be under surveillance and fearing for his safety - having released a single critical of Kinshasa's Chief of Police - he left the country to settle in Paris, where he formed the Afro-Latin fusion band African Team with Manu Dibango, Jean-Serge Essous and Don Gonzalo. Paris remained his base until his death, though he began to visit Zaire again in the late 70s. Kalle was important not just for the wealth of songs he recorded, but also for the development of the Latin tendency in Zairean music, creating a style whose sweetness and melodic strength is still in evidence in Zaire today. Compilations: Joseph Kabaselle Et L'African Jazz, Vols 1 & 2 (Sonodisdc 1984)***, Kalle And The African Team, Vols 1 & 2 (Sonodisc 1984)****, consisting of 78s recorded by Kalle and African Jazz in the late 50s and 60s. >

---
---



African Music Index
World Music Index




---