<! MP3 02/21/09, 01/10/10, 02/07/12 > <! update 02/21/09, 01/10/10 > <! outside 00/00/00 > <! pix 01/10/10 > <! 02/21/09: Prince Nico too complicated (for now); 01/10/10: N'Dour discography created > <! icons 02/04/11 >
---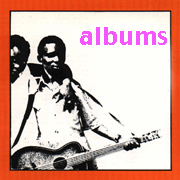 Hi -- welcome to my African music review section. This page includes records by artists under the letter "N" More African music resources can be found at the main index page.
By the way, I'm hardly a world's expert on African music, and this list is kinda whatcha call a "work in progress," so please feel free to make suggestions and comments.
---
A | B | C | D | E | F | G | H | I | J | K | L | M | N | O | P | Q | R | S | T | U | V | W | X, Y, Z | Comps

---
MUSICAL STYLES: Afro-Beat | Music of Cape Verde | South African Jive 'n' Jazz | Main Africa Index
---
National Badema "Original Kasse Mady" (Sonodisc, 2000)





<! Malian band known for incoporating Cuban music into their sound >


Youssou N'Dour - see artist profile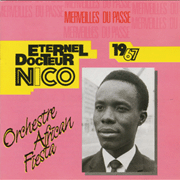 Nico & L'African Fiesta Sukiza "Merveilles Du Passe: 1966/1967/1968" (Sonodisc, 1992)


Throughout the 1960s, Congolese guitarist "Docteur" Nico Kasanda was one of the leading lights of the West African pop scene. He started out as a star performer in Grand Kalle's band, L'Afrique Jazz, and is credited as one of the most influential stylists in African pop, helping define the fluid, dreamy guitar style of soukous and modern high-life music. Early in the decade, Nico broke off from Grand Kalle to form the Orchestre L'African Fiesta, along with vocalist Tabu Ley. These recordings capture the band at its height, with Nico's mellow guitar lines snaking in and out of the songs, taking on a variety of voices, including Cuban-influenced Afro-salsa, echoing Hawaiian-style slide work and plenty of the long, complex, hypnotic guitar lines that characterize the style. It's all lovely stuff. Although this disc covers much the same time period as the Asala Malekoum album listed below, there is no overlap between the two. This album also includes liner notes, albeit in French.

Nico & L'African Fiesta Sukiza "Asala Malekoum: 1967-1969" (Sonodisc, 1998)


Beautiful, dreamy electric guitar music from this veteran West African bandleader, Nico Kasanda, also known as Dr. Nico. Another lovely set of his work from the late 'Sixties, with material that spans two eras in African pop -- relatively static, jazz-ish material that hearkens back to the earlier part of the decade, and more fluid, expansive numbers that show the pioneering spirit of the times, and more of Nico's innovative, playful guitar work.. Also included is some straight-up African-style salsa and a cover of the American soul standard, "When A Man Loves A Woman," which, while musically unremarkable, is kind of fun to hear translated into the local dialect. Another great historical disc; well worth tracking down. Sadly, no liner notes are included, and no information about when the various songs were recorded.
Nico & L'African Fiesta Sukiza "Volume 4: 1967-1969" (Sonodisc, 1994)


Presumably this overlaps somewhat with the Asala Malekoum album... (?)
<! above is a very exhaustive discography, including singles, songs, and original albums > <! 02/21/09: apparently no Dr. Nico MP3s on Amazon > <! too much info to untangle right now >
Koo Nimo "Osabarima" (Adasa, 2012)

Koo Nimo "Highlife Roots Revival" (Riverboat, 2012)



Alick Nkhata "Shalapo And Other Love Songs -- Original Zambian Hits From The 1950's" (Retroafric, 1994)



West Nkosi "Sixteen Original Sax Jive Classics" (Gallo, 1991)


A virtuoso of the South African pennywhistle, or kwela, West Nkosi switched to sax in the '60s and became a major performer as the jazz scene began to flourish and diversify. This album features a slew of his early and extremely rare "jazz" recordings -- but if the truth be told, the music is fairly repetitive and might not hold your attention long. I was into it for a while, but found the novelty didn't hold up.
West Nkosi "Rhythm Of Healing" (Earthworks, 1992)






<! Nyoka Longo - an offshoot/alternate lineup of the Congolese band Zaiko Langa Langa >

---
---



African Music Index
World Music Index


---