! MP3 02/27/09, 01/11/10, 02/04/11, 02/07/12 > <! update 00/00/00 > <! outside 00/00/00 > <! pix 00/00/00 > <! icons 02/04/11 >
---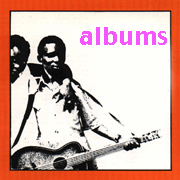 Hi -- welcome to my African music review section. This page includes records by artists under the letter "U". More African music resources can be found at the main index page.
By the way, I'm hardly a world's expert on African music, and this list is kinda whatcha call a "work in progress," so please feel free to make suggestions and comments.
---
A | B | C | D | E | F | G | H | I | J | K | L | M | N | O | P | Q | R | S | T | U | V | W | X, Y, Z | Comps

---
MUSICAL STYLES: Afro-Beat | Music of Cape Verde | South African Jive 'n' Jazz | Main Africa Index
---
Ubuntu "Master Drummers Of Africa, v.2" (Arc Music, 2010)






<! Kind of boring, but percussion buffs might get into it. >
Celestine Ukwu "Greatest Hits" (African Classics, 1997) <! Flame Tree? >


Nigerian bandleader Celestine Obiakor (aka Celestine Ukwu) was a 1960's highlife pioneer who played a laid-back style of guitar music that harkened back to early music from the 1940s and '50s... And yet he was also an innovator, introducing the pedal steel into his sound several years before King Sunny Ade made it the cornerstone of his own "juju" music. This delicious collection draws from two albums by his 1970's band, The Philosophers, 1971's True Philosophy and Ilo Abu Chi, from 1974, an album that included his gentle, enchanting "Igede (Pt. 1)." This isn't really a "greatest hits" collection, though, and I'm sure many music fans would welcome a proper retrospective of his work... Ukwu recorded numerous tracks before the Biafran war of independence (an event that sidelined his career in the late '60s) and like many African artists, his discography is packed with singles-only releases that beg for someone to colelct and reissue them. If you give this sly, gentle set a good listen, I'm sure you'll agree.


<! b. Celestine Obiakor, 1940, Efik, Nigeria, d. 1979, Onitsha, Nigeria. Guitarist and vocalist Ukwu was on the verge of national breakthrough (with his band the Music Royals) when the Nigerian civil war brought touring and recording to a virtual standstill. He re-emerged in 1970 with Philospher's Stone, playing a relaxed and sensuous form of highlife which, incongruously but effectively, used pedal steel guitar in its arrangements (a novelty later adopted by fellow Nigerian and juju star King Sunny Ade). His biggest hit was the single 'Money Palaver' in 1976, from Igede Fantasia. Ukwu's untimely death later that year ensured that his potential was never fully realized. (AMG) >

Sir Victor Uwaifo "Greatest Hits, v.1" (Premier, 2002)

Sir Victor Uwaifo "Guitar Boy Superstar 1970-1976" (Soundway, 2008)



A great collection of rare Nigerian guitar-pop from the early 1970s. Guitarist Victor Uwaifo made a name for himself in the early 1960s, playing in several bands before forming his own Melody Maestros around 1965... This disc collects sixteen tracks recorded in the early 1970s, when Uwaifo was an established artist, and had recently returned to his home town of Benin City, after having worked in Lagos for several years. These are supremely confident recordings, including several that are very modern and full-sounding, with richly-textured, fuzzed-out electric guitars and innovative melodies. It's great stuff. Uwaifo dubbed his original highlife style "Akwete" music, named after the wildly patterned, multicolored clothwork of Eastern Nigeria, and while the last few tracks on this collection don't sound that different than what other bands were doing at the time, the opening salvo is pretty impressive. Although this collection doesn't include any of his earlier work from the '60s, I suspect that by the time he'd cut these tracks for the Ekassa label, Uwaifo was really playing at his prime. (I'd love to hear the early stuff as well, though! Maybe another volume will come out sometime soon...) If you're into West African guitar music, this disc is a doozy -- highly recommended!
---
---



African Music Index
World Music Index


---