<! MP3 02/22/09, 01/10/10, 02/07/12 > <! update 00/00/00 > <! outside 00/00/00 > <! pix 00/00/00 > <! 02/22/09, 01/10/10: need to find a good Rochereau discography - too thorny for now > <! icons 02/04/11 >
---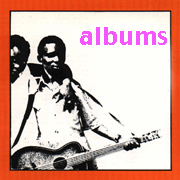 Hi -- welcome to my African music review section. This page includes records by artists under the letter "R" More African music resources can be found at the main index page.
By the way, I'm hardly a world's expert on African music, and this list is kinda whatcha call a "work in progress," so please feel free to make suggestions and comments.
---
A | B | C | D | E | F | G | H | I | J | K | L | M | N | O | P | Q | R | S | T | U | V | W | X, Y, Z | Comps

---
MUSICAL STYLES: Afro-Beat | Music of Cape Verde | South African Jive 'n' Jazz | Main Africa Index
---
The Rail Band "Mansa" (Indigo-France, 1996)

The Rail Band "Allo Bamako" (Sheer Legacy, 2007)






<! L'Orchestre Super Rail Band International >

The Rail Band "African Classics" (Cantos, 2007)


The Rail Band "New Dimensions In Rail Culture" (Globe Style, 1995)





<! Super Rail Band Of The Buffet Hotel De Bamako >

The Rail Band "Kongo Sigui" (Indigo-France, 2003)






<! Super Rail Band De Bamako >

The Rail Band "Djougouya Magni" (Indigo-France, 2004)





<! Super Rail Band De Bamako >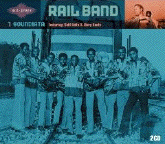 The Rail Band "Belle Epoque, v.1: Soundiata" (Stern's Africa, 2008)



A sweet selection of classic West African electric guitar music from the early 1970s, featuring future solo stars Mory Kante and Salif Keita as part of the large band... If you love the languid, hypnotic sound of this style of guitar music, but sometimes wish the songs could last forever, then this 2-CD set has some pleasant surprises for you: there are several long tracks on here, including the title track, "Soundiata (L'Exil)," which clocks in at nearly 28 minutes long -- worthy of an Indian raga! It's all really sweet stuff, too, with some of the most mellifluous sax'n'brass work I've heard in African pop. Recommended!
The Rail Band "Belle Epoque, v.2: Mansa" (Stern's Africa, 2008)



But wait: there's more! A second 2-CD volume of vintage Rail Band recordings is available as well... Sweet, sweet stuff just waiting to be enjoyed.
The Rail Band "Belle Epoque, v.3: Dioba" (Stern's Africa, 2009)


Ramblers Dance Band "The Hit Sounds Of... v.1" (Flame Tree, 1992)


Ramblers Dance Band "The Hit Sounds Of... v.2" (Flame Tree/Afrodisia, 1997)


El Rego "El Rego" (Daptone, 2011)



Jittery, chunky, funk-oriented proto-AfroBeat from late 1960s/early '70s West Africa, a collection of rare 45s by Benin-born singer Theophile Do Rego (known by his stage name, El Rego). This is aggressive, high-octane material, very similar to the work of Segun Bucknor and Orlando Julius, which is to say very much influenced by American R&B legend, James Brown. Personally, I'm mre into vintage African pop with a subtler, more African feel, but this is still a disc that many AfroBeat fans will want to check out... The result of some very intensive cratedigging by DJ/collector Frank Gossner... definitely worth checking out.


<! Afro-Soul collector/DJ Frank Gossner had spent years combing West Africa tracking down 45Õs by Theophile Do Rego (aka El Rego) before finally meeting him face to face in his home in Benin. From that relationship came this album, which we present to you here in a 20 page hardcover bookcase CD featuring El RegoÕs own story of his life and music along with pictures from his personal collection and artwork from his original 45Õs. The music has been remastered with great care, and the vinyl contains an exclusive BONUS 45Õ (while supplies last) of ÒSe Na Min,Ó one of his most sought after afro-funk tracks, backed with ÒE Ma Non Tin Me,Ó a beautiful and somewhat more traditional song about two blind men who agree to go together and leap to their deaths into a river. ~~~ The music of El Rego varies astoundingly in style and rhythm: traditional rhythms of Benin played with modern instruments, John Lee Hooker-esque blues, Fela Kuti inspired afro-beat, afro-cuban claves, and straight-up James Brown style funk. However, there is a common musical thread that runs throughout. The music has a raw soulful-ness and a unique flavor that can be attributed beyond the sound of Benin, to the sound of El Rego himself. There is a timelessness to the recordings that ties all of the traditions that inspire them directly to the grooves that were dominating the radios and jukeboxes of the early 70Õs. The record is teeming with breaking drums and twanging guitars, twisting basslines and undulating percussion. But most importantly, the rhythms are all crafted by a man that not only performed, but also owned nightclubs and had an intimate understanding of the importance of dancing. >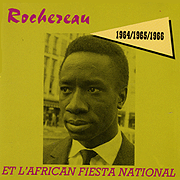 Tabu Ley Rochereau "1964/1965/1966" (Sonodisc, 1992)



Some beautiful, relatively early works from bandleader Tabu Ley Rochereau, with his full, lush, multi-layered electric guitar sound already remarkably well formed... This is the classic sound that he would continue to perfect and make richer as the years went on; here, the difference is the youthfulness in his voice and the newness of the sound. A great set of beautiful Afican pop... Highly recommended!

Tabu Ley Rochereau "1972/1973" (Sonodisc, 1996)



Like many artists, Rochereau was in a more experimental phase at the start of the 'Seventies -- although many West African bands had followed him into a mellower, dance-groove style, Rochereau himself was trying out various new approaches, different rhythms, sly mixes of blues and soul. Thus, this set is less like the typical Tabu Ley set, where you can put it on and just space out on it, yet it's a fascinating slice of his creative history. Don't get me wrong: there's nothing overly weird on here, or offputting, it's just there's more stylistic variety than you might expect, with some new approaches alongside the standard-issue hypnotic soukous guitars. It's all quite good, though.

Tabu Ley Rochereau "Babeti Soukous" (Real World, 1989)



This live album suffers from '80s-style "world beat" production: too-clean, too-rock drums and simplified melodic runs as prime culprits. Some icky, rock-flavored guitars as well. It is kind of interesting to hear Rocherau play in a live setting, but this stuff is nowhere near as captivating as the music he made in earlier decades, and the presentation as a whole has a rather simplistic, hurried, Ziggy Marley-ish "gee whiz!" feel to it. Okay, but not great.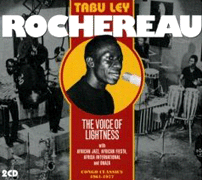 Tabu Ley Rochereau "The Voice Of Lightness -- Congo Classics: 1961-1977" (Sterns Africa, 2007)



A marvelous 2-CD set gathering some of the prettiest-sounding music recorded by African musical legend Tabu Ley Rochereau, one of the great pioneers of Congolese guitar pop. The chronologically-arranged retrospecive spans over fifteen years of work, encompassing several of Rochereau's great, classic bands -- African Jazz, African Fiesta, Afrisa International and Onaza, all of it lovely stuff. A couple of things stand out here... One is how beautifully produced and sonically rich the early recordings are: these 1961-62 recordings are the aural equals of anything being produced in Europe or the U.S. at the time, both in terms of the clarity of sound and the richness of feeling. This collection is also remarkable for how mellow and listenable the later tracks are. Other Rochereau collections from the 1970s have included more challenging material, but this one sticks to his softer side, avoiding the sometimes jarring brass arrangements that West African bands often favored, and sticks instead to a mellower guitar style, often with an almost acoustic feel. This is a beautiful collection, richly rewarding and highly recommended.
S. E. Rogie "Palm Wine Guitar Music: The '60s Sounds Of S. E. Rogie" (Cooking Vinyl, 1988)






<! old ASINs - B00002705J B000ZMV5UC >

S. E. Rogie "Wulomei/Sani Maye Eko" (Afrisong/Roots World, 1974)





<! same as or different than "Wulomei; Anthology, 20 All-time Favorites" B000EINTHO (??) >

S. E. Rogie "Dead Men Don't Smoke Marijuana" (Real World, 1994)



Guitarist Sooliman Rogie's career spand back to the 1950s, when he became a leading light of Sierra Leone's "palm wine" music scene, and his early work is prized for its light touch and raggedy appeal. Still, these later recordings made for Peter Gabriel's Real world label have a charm all their own, particularly the acoustic tracks that open the album, which have a relaxed, what's-the-hurry feel reminiscent of Bahamian troubadour Joseph Spence. There's a similar oddball sense of humor, as Rogie indulges in glib, absurdist flights of fancy as on "Woman To Woman (Nor Weight Me Lek Dat)," sung in a playful pidgin English. The record goes on into more fully arranged Afropop tune, which are also quite pleasant, but it's the bluesy acoustic stuff at the start that's really unique. This one might not appeal to everyone, but for the right listener -- someone looking for a laid-back acoustic set, rather than African dance music -- it could be a real treat.


<! * African Lady - Highlife Music From West Africa (1975) (credited as Souleman Rowgie) * Palm Wine Guitar Music: The 60s Sound (1988) * The Palm Wine Sounds of S. E. Rogie (1989) * The New Sounds of S. E. Rogie (1991) * Dead Men Don't Smoke Marijuana (1997) >

Rossy "Island Of Ghosts" (RealWorld, 1991)



Madagascarian pop enjoyed a brief vogue in the early 1990s, just long enough for a dud album or two to come out, such as this overproduced, lethargic magnum opus by harpist/accordionist Paul-Bert Rahasimanana (aka Rossy), who started his career in the early 1980s. Thudding, Gothic synth riffs and too-clean production overwhelm the intrinsic "otherness" that make many other Madagascarian records sound so compelling. This disc is a bit too grandiose and overly-orchestrated for me... Originally recorded as a soundtrack for a PBS documentary about Madagascar and its history.
Rossy "One Eye On The Future One Eye On The Past" (Shanachie, 1993)

Rossy "Madagascar" (Celluloid, 1997)





<! date(?) 1991 on another ASIN listing >

Ry-Co Jazz "Rumba 'Round Africa: Congo/Latin Action From The 1960s" (RetroAfric, 1996)



An absolutely delightful collection of tunes by one of the best Congolese bands of the 1960s. True to its title, this features plenty of tunes directly influenced by Cuban dance music, yet with a sweet African guitar twist. The first half dozen tracks on here are almost pure Cuban son, with chiming, hypnotic electric guitars and a dash of calypso thrown in for good measure. Things get funk with a cool French-language "twist" tune (Bill Haley-flavored rocknroll, that would have made Johnny Hallyday proud...), and then coasts into a pleasant set of more mature, mellow dance tunes. Great record... highly recommended!
Ry-Co Jazz "Bon Voyage: 1963-1977" (RetroAfric, 2008)






<! full subtitle: Rythme-Congolais From Africa Aux Antilles: 1963-1977 >

---
---



African Music Index
World Music Index


---